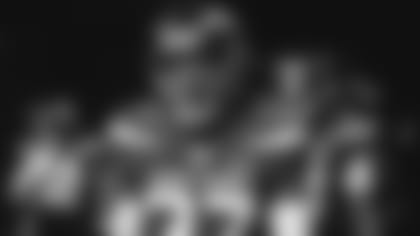 This is one of the most impressive things about Jets rookie cornerback Bryce Hall: He played in only half of the games of the 2020 NFL season, but still logged 547 snaps (48.1%) of the total on defense.
His professional debut -- on Monday night, Nov. 9 against the Patriots -- came after a long and complicated rehabilitation from a serious ankle injury during his senior season at Virginia. That was part of the reason his draft position fell to the fifth round. But Jets GM Joe Douglas saw something he liked and made Hall pick No. 158, showing his belief in the player and a willingness to bide time.
"Man, it's huge, this year of growth is an opportunity," Hall said. "To come into the league is a unique thing. Everything was different for me this year. The first half [of the season] not playing was an opportunity to learn and sit with some veterans, just learning how everything is going. I feel I have a lot of confidence by being able to play the last half. I've experienced huge growth in seeing what the NFL is about. I'm excited for the future."
There is little doubt that Hall elbowed his way into the core of the Jets' young corps of players. He logged 33 solo tackles over those eight games and snagged the first interception of his NFL career in the Jets' first victory of the season, 23-20 at the Los Angeles Rams on Dec. 20. It was an impressive one-handed grab that led to a swerving return of 20 yards to the Rams' 22-yard line, leading to a field goal and a 13-0 lead.
"That was really cool," Hall said. "I felt like the coaches were in the zone with the play calls. They were calling Cover 2. I was reading the quarterback [Jared Goff], saw him plant his feet as he was getting ready to throw. I could sense guys coming across the field. When he threw it I used my long arms to grab it. I tried to get away and score."
Asked if he was able to (or remembered to) fetch the ball for his collection, Hall said: "I haven't gotten the ball yet, but it will be something I'll cherish, especially coming back from what I came back from. That was special and getting the win was really special."
Hall, along with the team's rookies and other young players, faced a unique season in the NFL, amid the coronavirus pandemic that made offseason training camps impossible, delayed the start of training camp and forced the cancellation of all preseason games. For the rookies, especially, it truly was a trial by fire.
"I haven't had a true offseason," Hall said. "The biggest jumps happen between the first and second year. It's exciting for me to be able to attack and know what to expect and prepare accordingly." He added: "I'm excited now that I've had a year under my belt, seeing what to expect. I'm excited and ready to go to work."
If there was an upside for the rookies, Hall said, it is that it brought a closeness and sense of common purpose that might not have been as prevalent had the situation been different. Rookies like Mekhi Becton, Denzel Mims, Ashtyn Davis, La'Michal Perine and others were able "to bond and get closer," Hall said.
Those first-year players, who could be joined by as many as nine 2021 draftees, have convinced Hall that the Jets are putting together a strong foundation for the future.
"That's something we hope to do," he said. "We have a long way to go before we can do that. But it's something the young guys take pride in being able to be part of change, and to make an impact on this organization."
Hall believes, in terms of his play, that the sky's the limit.
"I have huge standards for myself," he said. "I think in the NFL a few plays every game can make a huge difference. You need to be precise and perfect. It's hard. I think I played decent. I feel I can play a lot better. I'm not discouraged, I know I have a lot more growing to do. I will get a lot better. From a physical standpoint, improving speed, quickness, getting stronger, home in on technique and go back and look at tape and film for where I can grow.
"I feel like I got a lot better [during the season]. It may not always have shown on the field, but I felt comfortable knowing how to prepare, knowing how to treat every week as a pro and what to work on. I got a lot more confident with knowing assignments, what to expect, how I'm going to have success. I got more confident as the games went on. Now I know a lot better what to work on for this offseason."
See the Top Images from 2020