Offensive linemen have always gotten the short end of the stats stick in football. But outstanding tackles like D'Brickashaw Ferguson still will find a way to impress fans not only with their athleticism and grace but with their numbers. Here are seven amazing facts about the 10-year Jets career of Ferguson, the Jets left tackle who announced his retirement as an NFL player today:
Ferguson never missed a game in his career. He was there from the 2006 season opener at Tennessee through the 2015 finale at Buffalo, 160 regular-season games in all plus seven more in the playoffs. The 160- and 167-appearance totals are tied for 11th-most on the Jets' all-time list, and Brick is all alone in fourth place on the franchise's consecutive-games-played list.
Not only did he never miss a game, Ferguson never missed a start. His 167 consecutive starts are second in Jets annals only to another legendary Green & White tackle, Winston Hill, who started 177 straight from 1964-76.
As for his 160 straight regular-season starts, well, Brick's no longer an active player, but that streak at the end of this past season was tied for the second-most starts among all active NFL offensive players in the NFL. He and Chargers QB Philip Rivers are at 160 with only Giants QB Eli Manning ahead of them at 183 straight starts.
Not only did he never miss a start, D'Brickashaw almost nearly never missed an offensive play. The only play it is believed he ever sat out in his career was the last-second skill-players-only multi-lateral formation in the loss to Miami in the 2008 finale. That's 10,755 of 10,756 offensive plays, not including plays on special teams plays, nullified by penalties, in the preseason ....
Which brings up a crazy Green &  White trivia question: Who are the only two players to play left tackle for the Jets in the last 10 seasons? D'Brickashaw Ferguson and ... Darrelle Revis! The perennial Pro Bowl corner and proprietor of Revis Island lined up at LT on that one play against the Dolphins.
Not only did he never miss a play due to injury in a game, Brick literally never missed a Jets practice. Since '06 he was listed on the team's weekly injury report only three weeks — 2009 Week 12 with a hamstring injury, 2010 Week 13 with a shoulder, and 2011 Week 17 with a foot. He was listed on eight of the Jets' nine reports in those weeks, one day as "limited" in practice and seven days as "full-go."
We don't have any injury reports for preseason, but a 100% attendance rate not only for games but for practices is simply amazing.
Ferguson did get called for penalties. He was flagged 43 times for 275 yards marked off against him over the years. But the vast majority of those infractions were false starts, 30 in all.
Ferguson's technique and professionalism really shone through in the relatively few holding calls he was hit with. For his career the total is only 15 holds, which includes five declined/offset calls and one on special teams.
But he started a holding crash diet midway through the 2010 season, and for the last 90 games of his career just one offensive hold was walked off against him, courtesy of four-time All-Pro Texans DE J.J. Watt last season. One hold allowed in five-plus years against the NFL's top pass rushers? Impeccable.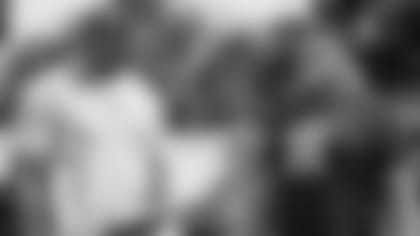 There's no separating Ferguson and Nick Mangold, his fellow first-round choice in the 2006 draft. For a while it looked as if neither would ever come out of a game, until Mangold missed a pair of games in 2011 and a start each in '14 and last year. In all, Brick and Nick together have started 163 of the Jets' last 167 games.
The tried and true measures most offensive linemen prefer are how their units fared over the years, and Ferguson has anchored a line that's held up well over his time on board. Last year was the Jets' sixth top-10 rushing offense since '06, and for the last 10 years combined, the Jets are third with 127.9 rush yards/game. In 2010 they had the eighth-best sack rate (5.1% of pass plays) in the NFL and last year they were second (3.5%). The 2010 offense gained the fourth-most yards in franchise history and last year's offense gained 5,925 yards at the rate of 370.3 yards/game, both the best in Jets/Titans annals.
By all these measures, D'Brickashaw Ferguson is going out on top.