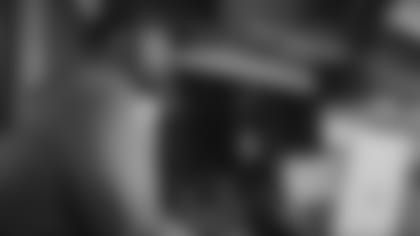 In his 20 years in the NFL, Jets general manager Joe Douglas has been part of three Super Bowl victories with two different organizations. And in 2000 — his first year in the league — he served as a scout for the Baltimore Ravens under Hall of Famer and former general manager Ozzie Newsome. As a newcomer in the league, Douglas was exposed to a great football operation and then Ravens head coach Brian Billick saw some impressive qualities in the rookie scout.
"Joe from the get-go, you knew he was a hustler," said Billick. "He worked hard and he was a grinder, which you have to be able to do. It was like, 'Whatever task you need for me to do, I'll do it.' When I knew Joe he was just beginning, so it's fascinating to see him as a general manager because you kind of think of people as you originally interacted with them… Joe was great, he was hard-working and you knew he was going to work his way up and be in a position like he is now."
Douglas' Year 1 was a successful time for both the Ravens organization and the young scout learning on the ropes. Douglas remained on with the Ravens until 2014 before stints with the Bears and the Eagles ultimately led him to New York. Billick, who had an 85–67 record as head coach of Baltimore from 1999–2007 (5–3 in the playoffs), saw the Newsome influence in Douglas' first free agency with the Green & White.
"Like you see from Ozzie Newsome, he always tries to address things in free agency," said Billick of Douglas' approach. "It didn't have to be a huge splash but address the needs so that it left you to take the best player available in the draft. 'Need' is a terrible evaluator, and so is to go into the draft with such an overpowering need that it warps your analysis of a player. So, you can see what they're doing with some of the offseason acquisitions, filling in these needs that should leave them some latitude."
He added: "You look at tackle with Georg Fant and then what they've done at the receiving core, two areas that needed to be addressed, and these two areas can obviously still be addressed early in the draft because offensive tackle and wide receiver both seem to have some options for them at number eleven. But they don't have to do that, given some of the things they've done in free agency."
Douglas — the former offensive lineman — has repeatedly praised Newsome and now you see him applying the tactics he learned from the HOF tight end. The Green & White have signed five offensive linemen in the first three weeks of free agency and Billick believes the building around Sam Darnold will continue for the first-year GM come April 23.
"The next move is obviously in the draft," said Billick. "You certainly need to wrap as much around Sam Darnold as you can. He's going to be the franchise and you put that kind of value on him when you drafted him. You have to give him every opportunity to be successful and that means protecting him."