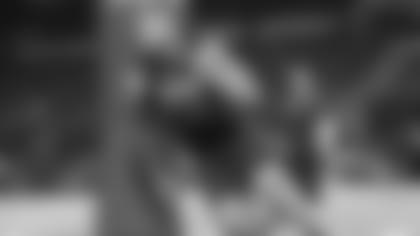 Like music to the ears of Jets HC Robert Saleh, pass rusher is one of the deepest positions in the 2022 NFL Draft is at pass rusher. While draft pundits don't believe there's a blue-chip prospect like Myles Garrett, Chase Young or Joey and Nick Bosa, there are a handful of good players who could be available for GM Joe Douglas at No. 4 overall. Below are Baldinger's thoughts on some top DE prospects.
Aidan Hutchinson (6-6, 260), Michigan
Hutchinson had a career year in 2021, catapulting his stock toward the top of the NFL Draft. He was a consensus All-American and Big Ten Defensive Player of the Year with 62 tackles, 14 sacks (third in FBS and single-season Michigan record), 16.5 TFLS and 2 forced fumbles. Following his father's footsteps as a defensive lineman for the Wolverines, Hutchinson is often projected to be the No. 1 overall pick and NFL Network's Brian Baldinger is in that boat.
"He should go No. 1," Baldinger said. "When you watch Aidan, he has elite quickness and size. This fanaticism to chase the quarterback sideline to sideline is what you love. You see the effort show up from him all the time. You can make a lot of sacks in this league just on effort. This ability on the outside to beat the tackle and then beat the back, he knows he's going to get double-teamed. That's what happens when you're an elite edge rusher, but he's over 6-6. He has great quickness – in the short shuttle, he runs what most receivers hope to run with a 4.15. He's got that type of ability off the edge and it starts with really quick feet."
Travon Walker (6-5, 272), Georgia
Walker is a freakish athlete whose stock has rose as much as anyone's in the pre-draft process. He had limited production compared so some of the other top prospects. He had 6 sacks in 2021 and totaled 9.5 in three seasons. He ran a 4.51 40-yard dash at 272 pounds at the Combine. He played in a rotation at Georgia and played his role well despite not pinning his ears back and rushing the quarterback a ton.
"In this Georgia scheme, you don't get a lot of edge pass rushes, but he has ability to use his big body at 6-5, 275 pounds," Baldinger said. "He blows things up and takes on two and get to the ballcarrier. They asked him to do a lot of different things. They asked him to drop into coverage, he lined up inside, play at the 1 technique between the guard and the center. You can line him up in a lot of different places and he can win the battle. That's what you like about the flexibility of Travon Walker."
Jermaine Johnson (6-4, 254), Florida State
Walker's former teammate, Jermaine Johnson, bet on himself in 2021, transferring from UGA to FSU. He totaled 8 sacks in two seasons with the Bulldogs before leading the ACC with 12 sacks and 18 tackles for loss in 2021, earning ACC DPOY and first-team All-ACC honors. His collegiate career started at Independence Community College and became the No. 1 JUCO recruit after two seasons.
"He's going to bull rush the tackle and turn it into power and that's what you love to see," Baldinger said. "His ability to back up the tackle and get to the quarterback, he has that move. Against the run, set the edge and if the back comes outside, then you chase the back down. He has that ability to chase the edge on the outside. All phases of the game, Jermaine Johnson is an elite prospect."
Kayvon Thibodeaux (6-4, 254), Oregon
A large part of Thibodeaux's evaluation will focus on the person as opposed to the player. While all teams dive into the person off of the field, Thibodeaux has been more of a talking point than other prospects. On the field, he was a unanimous All-American in 2021 (fourth in school history) with 7 sacks, 12 TFLs and 2 forced fumbles. The highest-ranked recruit in Oregon history, he totaled 19 sacks, 35.5 TFLs and 3 FF in 32 games (21 starts).
"He was the No. 1 high school player in the country coming out," Baldinger said. "He has tremendous first-step quickness. His first-step quickness, he wins constantly with it. The old dip and rip and a the little ghost move, to be able to turn the corner and get to the quarterback, he does that falling out of bed. That's easy for him and not as easy for everybody else. He can stand up, put his hand in the ground. He's 6-5, 255 pounds and growing. You watch him against Utah, he can beat you inside, he can beat you outside. You see that show up on tape all the time."