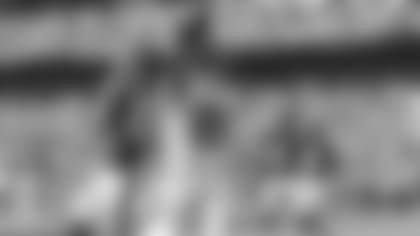 It would be insensitive to suggest that Jets RB Michael Carter and WR Elijah Moore are last year's news. But it would be accurate to say that last year's rookie skill team has help on this year's squad with the top two offensive selections from the 2022 NFL Draft, RB Breece Hall and WR Garrett Wilson.
Wilson, the 10th overall pick of the draft out of Ohio State, was one of the major stars in the Jets' Cleveland Comeback for their 31-30 victory over the Browns. But he wasn't alone. Helping to set the stage in the first half was second-round RB Breece Hall.
"Like Coach Saleh says, just give that 60 percent," Hall said of what his Jets head coach will say about players who think they've given all they have, only to find out they can give more than that when it's needed on the NFL turf. "I feel like he's definitely going to humble us in the meeting tomorrow. I feel like he's going to tell us that we left a lot out there.
"We're going to definitely enjoy this tonight."
"This" will be the celebration the Jets iwll have individually and in groups after coming from 13 points down with 1:55 left to lift themselves to 1-1 on the season. Here's what Hall contributed to the victory:
■ He was the Jets' leading ballcarrier with 50 yards on seven carries for a very healthy 7.1 yards/attempt. Thirty-six of those yards came in the first half, when he was helping the Jets offense keep within striking distance of the fast-starting Browns by forging 7-7 and 14-14 ties.
■ That 14-all draw came when Hall wheeled out of the backfield, caught a Joe Flacco pass, found no Browns defender n front of him and strode the rest of the way to the goal line for his first pro touchdown.
■ Since Wilson and Hall became the first Jets rookie tandem to gain 50-plus yards from scrimmage in the same season opener, it would follow that, with Wilson racking up 100 YFS and Hall 60 at Cleveland, they're the first Jets rookie duo to each get 50+ in the first two games in a season.
Hall described his first TD and his thoughts on the Browns' coverage issues, which reared their head again on the Corey Davis TD late in the game.
"Honestly, I was surprised they left me that open," he told Caroline Hendershot of newyorkjets.com. "Usually, through preseason a lot of defenses knew they used me in the passing game so I always had a guy over me. I guess they just busted the coverage, I got open and scored my first touchdown, so it was exciting for sure."
But it's not about what the team can do for Hall or Wilson but what Hall and Wilson can do for the team. That's part of head coach Robert Saleh's "60%" mantra.
"Even though we still don't feel like we've played complementary football, it shows that we have grit, we have fight and we're not going to give up," Hall said of the events of the day. "Coach Saleh always instills in us having that extra 60 percent, and I feel like we showed that today for sure.":
And the Jets' two offensive rookies also showed that complementary football is not only a goal for an entire team but also for two players who came in together and are learning to play off of each other. It will be exciting to see what Hall and Wilson, and Carter and Moore, et al., can do to complement each other and their offense next week at home against the Bengals.