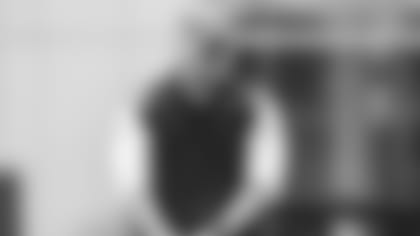 Jets special teams coordinator Brant Boyer will confront a lot of changes this season, the biggest being a new kickoff rule. During the 2023 Spring Meetings, NFL owners passed a proposal that will allow players to fair catch on kickoffs and safety kicks behind the 25-yard line for the ball to be placed at the 25.
"I'm just hoping they don't take it out of the game," Boyer said of kickoffs. "I think it's an exciting part of the game and I think there's going to be a lot of balls on the ground and stuff like that. It's things that we're going to have to prepare for, especially in end of game situations and all that stuff.I understand what they're trying to do, and we'll play by the rules, and we'll see how it goes from there."
League officials have said kickoff plays have resulted in the highest rate of concussions annually. While collegiate football has made the fair catch rule change, Boyer thinks there are a few things he can take away from their execution.
"I think there is some, a little bit, but I mean, you have coordinators in this league that are going to try to take advantage of it in every situation, like we all do," Boyer said. "I think those are studies that we're going to have to do and find out what's going to work best and find out what we want to do in those situations."
Not only will the rule change take some time for special teams to adjust to, but Boyer will also have to adjust to not having WR Braxton Berrios as his primary returner for a third consecutive year. Berrios signed with the Miami Dolphins this offseason while the Jets added former Chiefs speedster Mecole Hardman Jr., who has 2 career return TDs and handled 56 punt returns for the Chiefs from 2019-21. The Jets also signed rookie FA Xavier Gipson, who had four punt return scores at Stephen F. Austin. Second-year RB Zonovan "Bam" Knight was one of the nation's most prolific return men while at NC State.
"I mean, you've got a bunch of them," Boyer said about the Jets' returner options. "I think it's a talented group, I really do. They're doing a nice job catching and tracking and things like that so far, so we'll see where it takes us. Once we get into pads, we'll see how well they do. Mecole is electric fast, and he's had some good success returning the ball. We were happy to get him, that's for sure."
Another addition to the special teams unit this season is P Thomas Morstead. Morstead played in 7 games for the Jets in 2021, but most recently played in all 17 games for the Miami Dolphins in the 2022 season. For his career, he has a 46.5 average and Morstead has pinned opponents inside their own 20 on 37.2% of his 798 career punts.
"I thought he did a great job when he was here and he's such an experienced guy that executes the game plan exactly the way you want it," Boyer said of Morstead. "He's great to be around. He takes a leadership role in the room, and he is just a pleasure to be around and a great guy to have on your team."
"As far as our three specialists with Henny [Thomas Hennessy], happy for him," Boyer said. "He's got the new deal and re-signing [Greg] Zuerlein back is huge for us and obviously, getting Thomas back. So, I look forward to seeing those three do a really nice job this year."