Outside of Super Bowl III, nothing's guaranteed in the NFL, and Exhibit A this year for the Jets was wide receiver Brandon Marshall.
"I came in this year in the best shape of my life, the lowest body [fat] percentage I've ever been at, the lowest weight I've ever been at, smarter, spent more time focusing on the mental aspect of the game, controlling that," Marshall told reporters today as the Jets players cleaned out their lockers following the final game of the season Sunday. "So I was expecting big things."
The big things did not come for the Jets, who finished 5-11 with the 30-10 win over the Bills. And Marshall sat the game out due to hip and shoulder injuries that he said would have made him "probably the least effective receiver out there."
As a result, Marshall went from 2015, when he had "my most productive year" in setting multiple Jets and personal marks, to 2016, which he said today was "definitely, probably my most frustrating year" — his fewest receptions in a season, 59, and his least yardage/game at 52.5 both since his rookie year of '06 with the Broncos.
"I've been in the league 11 years, never made the playoffs — I think that's well-noted," he said. "But I've always been productive. This was a new challenge for me, losing but not being productive, so it was a struggle all year."
Reporters pressed him on what the issues were for him and the Jets. Health? The loss of WR partner Eric Decker early on? Playcalling? Locker room problems? He acknowledge all but didn't pin the blame on any one thing.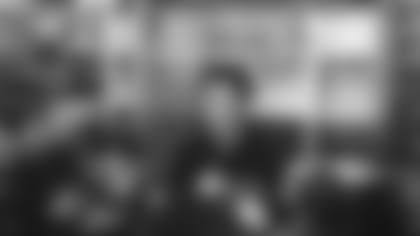 "It's tough at times," he said, "but this is a man's game. You've got to be able to take it on the chin and keep walking."
But the most significant responses Marshall had for media and fans today no doubt had to do with where he feels his level of play will be as he enters his 12th season, and if that season will be spent in green and white.
"I'm extremely confident that I'm still an elite receiver," he said. "I still demand double coverage, I still demand a lot of attention. And that's really good because that gives our other receivers 1-on-1 matchups or they get a chance to go against the No. 2, No. 3 corners on the other side. When we have the talent that we have with Quincy [Enunwa] and Robby [Anderson] and with Decker getting healthy, those guys are uncoverable. So I think I'm still at the level where I can demand that type of respect, that type of coverage.
"The numbers weren't there, that's new for me. I think this is a year that most receivers can hang their hat on, but not for me. The bar's set high and it's unacceptable."
And on the Jets question: "Yeah, I've already voiced my opinion on that. I would love to be back. Obviously there's a business side of it, but for me, I would love to be back."
And as he spoke for himself, he spoke for his team. A down year is over but Marshall and the Jets are not out.
"We just didn't do the things we did last year. We didn't make the plays. We need to do a better job of doing that," he said. "We'll have some time to do some self-assessment these next couple of months, going home early again. And we'll figure it out."