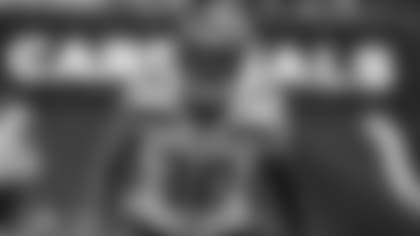 Just a day before Bradley McDougald intended to leave for training camp in Seattle, he received an out-of-the-blue call from Seahawks GM John Schneider. The 29-year-old safety was informed that he had been traded for the first time in his career, having been packaged to the Jets along with three draft picks including a pair of first-rounders in exchange for star defender Jamal Adams and a pick.
"All I heard was Jets, Jets, Jets," McDougald said. "I was like, wait, 'You just said I got traded to the Jets?'"
After disbelief dissipated, there was a brief sense that he been discarded by a club where he had become a key contributor. But then McDougald, a former undrafted free agent out of Kansas, who has lined up for three NFL teams, completely shifted his mindset.
"I felt abandoned liked they just kicked me out, like they didn't care about me or value me there. But then I started to think about how much of a blessing this was and another opportunity," McDougald told reporters on Friday. "It's actually a better space for me to be in, I can come in to a program that wanted me to be there. They did their homework on me and they traded for me, so I just started to think about all the positives. I'm not the first guy to get traded and I'm not the last guy who will be traded to a team. I had no time to feel sorry for myself or focus on anything negative other than just coming into a new program, earning my respects from the players and the coaches and going out there and being the best me in New York."
McDougald, a Seahawk from 2017-19, might play the same position as Adams, but he is a different player. During his time in Seattle from 2017-19, McDougald watched two key figures of the Legion of Boom in Kam Chancellor and Earl Thomas depart by injury/retirement and free agency respectively.
"This isn't me being her to replace Jamal This is me being here as a fresh start," McDougald said. "Just the same way that I couldn't be Kam or Earl and I still found my way to be successful, it's the same way with this."
Entering his eighth NFL season, McDougald prides himself on his versatility as he's played both strong and free safety and he is confident in his coverage skills. McDougald, who started 39 regular season games for the 'Hawks from 2017-19, had 10 career INTs, 4 FF and 3 FR. He has already shared constructive dialogue with his new boss, Jets defensive coordinator Greg Williams.
"The first conversation was intense," said McDougald, who had 15 tackles and a sack in Seattle's two postseason games last season, of Williams. "He's an intense coach, he's very passionate about what he does. I've heard nothing but great things about him from going back to his Saints days to him being here. He's excited and one of the things that he says he will do is he forms his defenses around his players. He puts us in the best situation all depending on our skill set and that's exciting that a coach has flexibility within his defense. You just don't have a strict defense that you have to fall in line to play in, he plugs in guys in different places and I can appreciate that as a player."
Without Adams, the Jets will transition minus one of the better energy players in football. The 6'1", 215-pound McDougald believes his approach will be welcomed by his new teammates.
"I feel like I can make those around me better with just energy and motivating them and my work ethic," he said. "They see my work ethic and they cling to it and it just pushes them to be better."
Comfortable in his own skin, McDougald is intent on being the best version of himself. He'll join a safety group that includes underrated veteran Marcus Maye and talented rookie Ashtyn Davis.
"I can't be Jamal. I'm not the same person as Jamal," he said. "And the only thing I can do is show up every day and be the best Bradley McDougald and then hopefully that wins my coaches, my players and the fans over. That's who I intend on being while I'm here."