It was a quarterback day as usual for reporters, but head coach Todd Bowles wasn't supplying any headlines today regarding Ryan Fitzpatrick still being unsigned or Brandon Marshall and Eric Decker being at practice.
"As a coach, you don't block it out," Bowles said at his news conference following today's OTA practice regarding Fitzpatrick's situation. "Being a former player, you've seen quite a few things in your day, contract-wise, and on the management side I've seen a few things as well.
"Treat it like an injury. Whether you're suspended, whether it's contract, whether it's an injury, they're still not here. And as a coach, you get paid to get your team ready to play and keep the team together, and regardless of who's playing any position, you've got to win ballgames. So that's how I treat it."
Bowles thought nothing special of the absence of Marshall and Decker, the Jets' top two wideouts, at last week's start to OTAs, because these practices are voluntary and also because he said both of them told him why they weren't showing.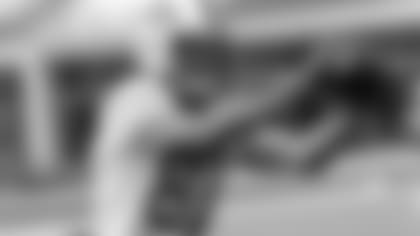 "I talked to them and I knew they were going to miss last week," the coach said. "The reasons they told me, they had valid reasons, so they were fine."
Back in the lineup this week, the two got to work with Geno Smith as the starting QB, and Marshall in particular had praise for Geno's grasp of the offense and maturity this year, and not only because the two roomed together during last year's training camp.
Bowles similarly likes what he's seeing from Smith.
"Right now we're at five days of OTAs," he said. "From a mental standpoint, you're getting a lot of reps and he's getting to see things a lot clearer. We're not at the August standpoint where we can say that opportunity has taken place yet, so it's really early in the stages, but he is getting major reps."
And he had one more headline-squelching observation about what Fitzpatrick is missing right now by not being at the Atlantic Health Jets Training Center.
"You can get into a routine as a veteran player. You have your workout routine and your camaraderie routine, getting used to being around the guys," Bowles said. "But Ryan was hurt last year when he was here at this point in time, so it's pretty much the same thing. And that didn't seem to hurt him."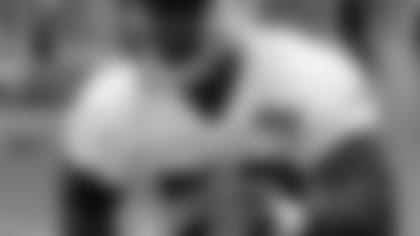 Bowles also fielded questions on a few Week 2 non-QB issues:
New LT Ryan Clady (above photo) — "Yeah, it's good to see him. He's been working with the team. But to get him a couple of reps and athletically to get him used to what we're trying to do at full speed again has been good to see. He's a little rusty. He hasn't played in a while."
Rehabbing CB Darrelle Revis — "He's working out right now, running, doing all he's supposed to be doing. He's doing wrist exercises. He'll be ready when he's ready."
The "more vocal" Erin Henderson — "I think he's feeling much more comfortable, and he likes to get everybody going. Erin's always been a talker, more behind-the-scenes, but he's becoming more of a vocal leader now. It's all in fun with him. It's about good camaraderie."
Practices in general —"Just good effort right now, guys learning the system, learning how to play with each other again. So they're still getting some kinks out on both sides of the ball, and special-teams-wise, they're getting used to Coach [Brant] Boyer. But the effort's good and the camaraderie's coming together, so it's been good.