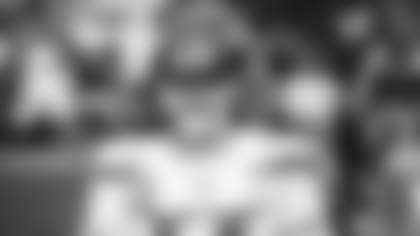 Since the start of the NFL league new year and free agency, the Jets have reportedly agreed to terms with four offensive linemen and announced the re-signing of veteran G Alex Lewis. The actions of Jets GM Douglas have not surprised the team's long-time play-by-play voice, Bob Wischusen.
"I think he's done exactly what he said he was going to do philosophically, even when we were having these conversations six months ago," Wischusen said during a recent appearance on The Official Jets Podcast. "He wasn't 100% sure who would be available or how much player A, B, C would cost, but he always said multiple things. Obviously, he is a former offensive lineman, so he knows you have to build a brick wall in front of your quarterback, or you have no chance."
News outlets have reported Douglas has reached agreements in principle with tackle George Fant and interior offensive linemen Connor McGovern, Greg Van Roten and Josh Andrews. Wischusen believes Douglas sticks to his value ranges and won't be pressured into making moves.
"I think he's looking at each guy as having a price value and if he can meet that price value with each specific guy, great, and if he can't — then you move on to someone else," said Wischusen. "I have always believed that he has looked at free agency as option two. I think he looks at the draft still as if you're going to build a team, you're going to build it primarily through the draft."
Lewis, the 6'6", 305-pound fifth-year lineman who agreed to terms with the Jets early last week and signed Saturday, will remain a part of quarterback Sam Darnold's wall of protection.
"I think if they put an offensive line in front of him that can protect him, then you're going to see him become the best quarterback in the division," Wischusen said of Darnold. "I think his ability level is different than anybody else."
He added: "He needs to play all sixteen games and he needs to stay healthy and he needs to prove that he can be — from a durability standpoint — a guy that they can count on every single week. But if he does all of that, and they put a wall of blockers in front of him and give him some weapons, then yes. The last thing I'm worried about with the Jets is the quarterback. He's the least of their worries."