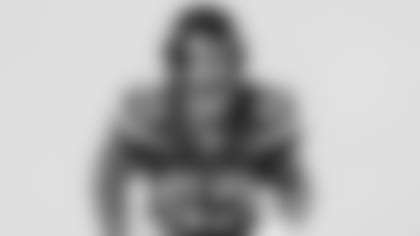 The Jets were in pads on Monday for the first time in training camp ahead of the 2020 NFL season and a familiar face and budding talent stood out among the linebackers. Second-year LB Blake Cashman was geared up for the first time since his season-ending shoulder injury last October.
"The first challenge was gaining the strength and mobility back in my shoulder," Cashman said about his journey back to full strength. "Any shoulder surgery is not an easy surgery. That was probably the biggest challenge, and then mentally going through my four shoulder surgeries, that's tough so you can't do too much. You have to find ways to focus on other things besides your injury or just football. Even though I couldn't grow as a player physically on the field, I was still able to grow as a player mentally in the meeting rooms and film rooms."
Cashman, the Jets' 2019 fifth-round pick, was beginning to feel comfortable and was contributing when he sustained a torn labrum and fractured shoulder in the Week 8 game against the Jacksonville Jaguars. Before being ruled out for the rest of the year, Cashman was fourth on the club with 40 tackles — four for a loss. Along with his defensive roles, the 6-1, 237-pounder also contributed on special teams, playing in 64 ST snaps.
Still, despite the temporary setback, Cashman is confident he can regain his form and place in the Jets' evolving defensive scheme.
"I feel like my coverage is my strongest strength and I run really well," he said. "I would definitely like to see myself in packages in situations where we're bringing a person on the field and it's going to be man coverage and pressure, or fire zones and fire-zone pressure. I see myself fulfilling that role. I left off last year injuring my shoulder, so I spent a lot of time in the weight room getting my shoulder strong and stable."
He added: "I feel like I can play a significant role in the run game running down hill and really put my hands out to linemen and hold my own in the gaps. It's something that I've been working on for the last year or two. This year in training camp I feel like I've made drastic improvements. So, wherever he [Gregg Williams] puts me, I feel like I need to own that role and be responsible for my stuff and when it's time to go, go."
With a condensed schedule to prepare for the regular seasonand zero preseason games, Cashman — along with the rest of the squad — know that performing well in training camp is crucial. The linebacker's corps was dealt a blown when LB C.J. Mosley opted out offor the upcoming season. Cashman, however, believes the group is "ready to rock."
"I would say we are a smart and tenacious group," Cashman said. "I felt like, given this offseason and how we have had so much meeting time, we've grown so much. Knowing all of the information we need to know in Gregg Williams' playbook, I think from where we were last year to where we are now, we've made massive leaps on knowing our responsibilities. That just allows us to play with so much confidence, which ultimately allows you to play faster. We've got guys that want to go. … Fans and coaches don't have to worry about the linebackers going because we're healthy and we've grown a lot in the meeting rooms."