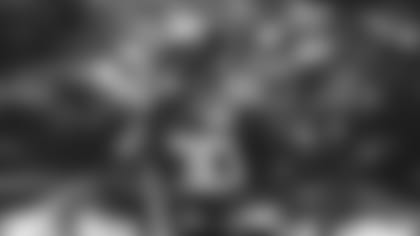 During his first season in the NFL, CB Michael Carter II was just trying to "keep his head above water" according to DC Jeff Ulbrich.
Now with a year under his belt and a better understanding of Ulbrich's system, Carter is ready to make a bigger impact.
"I am definitely more comfortable and confident," Carter said. "I think especially toward the end of the year everything started to come together as far as the communication. The game really became a lot slower. … I feel like I can trigger more and be a lot more anticipatory in the way I play. I feel like we are just going up from here."
The Jets drafted Carter in the fifh round (154 overall) of the 2021 NFL Draft and he saw significant action appearing in 15 games.
Carter totaled 45 tackles, 11th most among rookies, and 5 passes defended, 12th most for first-year players.
"We really challenged him last year," Ulbrich said. "In Year 1 you are just trying to keep your head above water. Even at that, I thought he played at a really high level for a rookie."
Carter is still searching for his first NFL interception, but his one year of experience is giving way to big plays during camp.
Playing nickel back against OC Mike LaFleur's scheme on Monday, Carter appeared comfortable. Carter matched up, adjusted pre-snap and once the ball had been snapped, rotated into the coverage seamlessly on multiple occasions.
With less on his mind when it comes to the scheme, Ulbrich believes Carter will be able to come up with more interceptions, pass breakups and big plays.
"Now it's for him, 'I know that is your alignment, I know that is your assignment' and now it is time to take your shots," Ulbrich said. "Start to really gather the information the offense is giving you, find those spots to make those special plays that special players make. That has been the challenge all spring. He has really started to really feel that and adopt that and that is where we think he can take his game to another level."
During a scrimmage period starting at midfield, Carter followed his receiver in motion across the formation. Carter passed the receiver off to offseason signing D.J. Reed and set up in the slot covering WR Elijah Moore. As the ball was snapped and Moore took off toward the middle of the field, Carter backpedaled into his zone and shut off the passing lane leading QB Zach Wilson to fling a pass into space, killing the play.
"Applying the film study to the field I have started to see the picture a lot clearer," Carter said. "I feel like that is what is happening out there for me."
See the Green & White on the field in full pads for the first time at training camp.