You the fans have spoken, and your selection for the Best Jets Action Photo of 2011 was a stretch. Or rather, it was a photo of a fantastic stretch, but it was not a long shot to say that you liked it, you really liked it.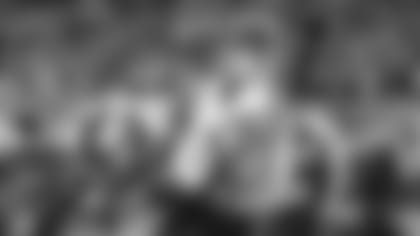 Al Pereira's photo of Plaxico Burress flying through the South Philly air and reaching out for a Mark Sanchez pass in the fourth quarter of the Jets' game against the Eagles on Dec. 18 has been selected by you, our loyal still-image-loving fans of newyorkjets.com, as the best of Al's best.
In fact, the image was one in a sensational sequence of shots that showed Burress leaving his feet, spreading his 6'5" wings and reaching for what appeared to be a throw too far by Sanchez. But  Plax got past Philly CB Nnamdi Asomugha, reached out with his right hand, brought the ball in to his left mitt, controlled the ball and landed on his hip just inbounds.
Field judge Buddy Horton, not believing what he just saw, called the pass an incompletion because he felt Burress didn't land inbounds. But head coach Rex Ryan and the Jets challenged the call and upon further review, referee Clete Blakeman reversed it to a touchdown reception, Burress' eighth and last of this first season with the Jets.
Al P agrees with your fine choice. "That shot and that sequence were my personal faves," Pereira just told us. "Many, many thanks for all who voted and viewed!"
Too bad the gravity-defying catch didn't come in a Jets victory. But a darned good photo is a darned good photo no matter who wins. We feel that way and a majority of you did as well in crowning this shot Pereira's best action photo of the season.
We presented 22 action photos — all shot by Pereira, the outstanding long-time team photographer — in the "semifinal round" of our contest back on Wednesday, Jan. 18, and asked you fans to vote for your top five picks. We reduced the field down to the five most selected images and presented our "Final Five" for one more vote this past Monday. The contest ended today at noon ET.
The finals also included a stretch of a different kind by Mark Sanchez on a touchdown run against the Dolphins, guard Matt Slauson's end zone spike after his fumble-recovery TD in Denver, Dustin Keller's leaping goalpost jam after his TD vs. Buffalo, and another shot of the picturesque Plaxico with his leaping, one-handed snag on the game-winning drive later in that game vs. the Bills.
The winning Burress photo will have an honored place in Pereira's top sequence shots of the season in the Jets' 2012 Yearbook, which will be out in August.
Thank you all again for helping us to capture the most stunning image of the recently concluded '11 season.