Jets fans may not recognize RB Bernard Pierce on sight yet, but for those who attend training camp practices today, Sunday or during August at the Atlantic Health Training Center, you will know him when you see him run.
Pierce is the Jet in the gold football shoes.
"I always wanted to wear them but just because of certain rules and restrictions, I couldn't," said Pierce, who couldn't lace them up for Ravens practices from 2012-14. "It's just me. I'm not trying to be above myself or be that individual that's different. But it makes me feel good. Feel good, play good, man."
He knows that just like Marshawn Lynch, he won't be allowed to wear them during games because gold is not among the Jets' league-approved shoe colors. But Jacksonville was OK with his practice footwear last year, as are Todd Bowles and the Jets this summer (above and below, in photos from today's practice by team photographer Al Pereira).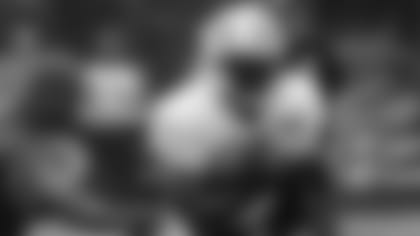 And darned if the new No. 30 doesn't look fast in them, as when he took a handoff in red zone drills Friday and glided around left end untouched for the TD. With RB Matt Forte sidelined by a hamstring tweak and Khiry Robinson on Active/PUP, the ball is going to Bilal Powell, Pierce (signed as a free agent this week) and rookies Dominique Williams and Romar Morris on running plays.
"It's still a dream come true," said Pierce about playing in the NFL, which he can't do in the regular season until Game 3 after serving a league-mandated suspension. "So you really can't sit here and pick and choose what you're doing or how you're doing it. I'm still in the positon to compete and that's what I came here for."
And asked if he still has some good seasons left in his career, he replied, "Yes sir, I still have years under this belt." Not to mention in the shoes.