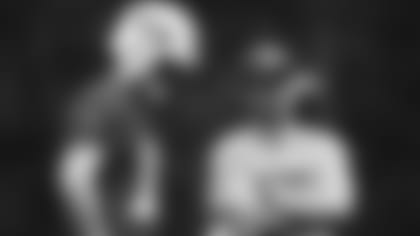 When asked if he thought rookie quarterback Sam Darnold had the potential to start for the Jets in Week 1, Green & White offensive coordinator Jeremy Bates (who doubles as the team's QB coach) elected to focus on the strength of his entire passing stable.
"Right now, you know it is still spring training. We (have) three great quarterbacks," Bates said. "That's really exciting. It's a real exciting room, it's healthy competition. There is no depth chart right now, so we are just trying to teach everyone the playbook and get them to full speed before we get to training camp."
Throughout OTAs and now in minicamp, the Jets have given Darnold some reps with the first-team offense. Bates has also opened up the entire playbook to the USC product, insisting you won't get very far if you are focused on baby steps.
"If you treat them like a rookie, they will become a rookie," he said. "So, we threw the whole book at him and see what he can handle (and) what he needs to work on just like the other two. He has done a really good job. There is lot of information there."
While Darnold is learning a new offensive language, Bates believe he is doing an outstanding job early in his pro transition.
"Amazingly, just excellent. People don't understand that getting a snap under center (and) a huddle experience calling these long paragraph kind of plays — it's not easy. I've been around some rookies that took a whole year to be able to get into a huddle and have confidence and call those plays," he said. "Since rookie camp, he hasn't flinched. Everything that we have thrown at him, he has been able to handle. So we're excited."
Darnold, who was 20-4 as a starter at USC, continues to flash at practice. He threw a pretty scoring toss to Jordan Leggett during Tuesday's camp practice as the second-year tight end got enough space to create a window between him and a linebacker.
"I kind of describe him as a very sudden player," Bates said. "There is not a lot of wasted thought process between him thinking and him releasing the ball. So he is very sudden and at the same time, he has a true passion, a true love for the game. He is all ball as you guys probably have seen both on the practice field and in the media room, and he is really fun to coach."
But Bates is enjoying coaching more than just Darnold. After a career year, Josh McCown re-signed and Teddy Bridgewater, a former first-round pick who is just 25, has looked good while continuing to take steps in his recovery from a major knee injury he suffered in 2016.
"If I was a rookie quarterback and I was in the same room with Josh McCown and Teddy Bridgewater, I would feel pretty good about that," Bates said. "Josh and Teddy are amazing football players, but even better human beings… With those two veterans who have been there (and) done that — he feeds off of them. They teach him the game, it is a healthy competition. They are pulling for each other. They are talking about mistakes and how to grow from them. So, I think that is a big advantage for Sam just to have those two guys with high character in the room."
Bates, who credited his strong staff for their teaching abilities, will call the offensive plays for the Jets in 2018 after being promoted from his duties as QB coach. Bates who served as the Seattle Seahawks offensive coordinator in 2010, says the entire offensive unit has a good mojo as the spring winds down.
"I don't have a crystal ball, so we are still trying to figure out what we do best," he said. "We are throwing the whole playbook at them and deciding what we can feature and maybe some things we can put background and work in next spring. I will say this — there is a good vibe. There is good energy with the offensive unit. They are coming to work every day and they're getting better. It is exciting to be here right now on the offensive side."