Scoring a touchdown in a game does not guarantee that you beat your opponent. When the New York Jets put six on the board at home, however, we do guarantee that it will lead to the beating of drums by our newest members of the Green & White family, the Aviators Drumline.
If you attended either of the first two home preseason games, you may have seen this group of percussionists roaming throughout the MetLife Stadium crowd and adding to the vibrant atmosphere that our fans provide. So who exactly are these "Aviators"?
They're a group of 15 percussionists from Gallant Entertainment Inc. who have worked hand-in-hand with the Jets in creating unique pieces of music to be played after touchdowns and other celebratory moments.
"We feel like we have a great package for the fans," Aviators leader Shaun Gallant said. "Every time they hear them, they'll know good things are happening."
The Aviators debuted in the preseason home opener against the Jacksonville Jaguars and "Jets fans were welcoming with open arms," Shaun said.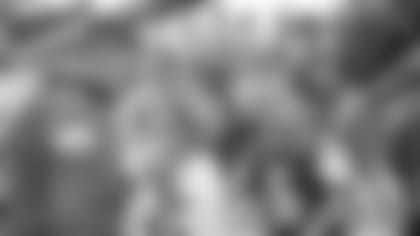 In what will become their routine for all our home games, they began by marching through the parking lot tailgates for a couple of hours before making their way into the plaza and concourse areas.
As the time of the opening kickoff approached, the Drumline marched toward the field for pregame festivities before eventually settling in at their home base behind Sections 143 and 144.
"There are a few other NFL drumlines, and most seem to finish up once the game starts and are not really used," Gallant said. But the Aviators won't follow that trend when the game gets under way.
They helped to pump up the crowd during timeouts and touchdown celebrations throughout our 37-13 win over Jacksonville and then made their way over to MetLife Central for a postgame performance in front of a crowd of 2,000 fans.
"That was the coolest moment of the game," Gallant said. "It was a shock for us to see just how grateful everyone was, and the fan interaction was fantastic."
Being immersed in the crowd, "rather than putting the group up on a podium where they're kind of untouchable," allows the 15 drummers to engage with 80,000-plus fans on a more personal level, Gallant said.
"I love the fan interaction," Aviators member Kyle Maxwell-Doherty said. "It's so great to meet with the fans, to hype them up and have fun."
Some of our percussionists perform for a handful of other professional sports teams in the region, including the NBA's Knicks and the NHL's Rangers, but Jets fans are unique with "their grittiness and party-hard attitude," Aviator Michael Howell said.
He recalled the excitement of engaging with a crowd of Green & White fans after the preseason home opener victory. "People are sweating, you're sweating, jumping, screaming, breaking sticks," he said, "and it's just full of adrenaline. It's awesome."
One of Drumline leader Shaun Gallant's favorite components of the Aviators is the outlet provided for its members to continue doing what they love once their college marching band days are over. The Aviators' passion for drumming combined with a love of sports produce a visceral feeling of excitement that fans can experience firsthand on gamedays.
"I was talking to a friend today and she was getting up and going to work at like 7 a.m.," Howell said. "I'm like, 'Oh, I'm going to work, too, but I'm going to go play drums for a little while and hang out with fans.' It's a sick job."
"It's great to be part of the New York Jets family," Maxwell-Doherty said. "It's fun to see these kids come up to us. In a way it's like we're celebrities, taking pictures with them. It's great to be a part of the organization."