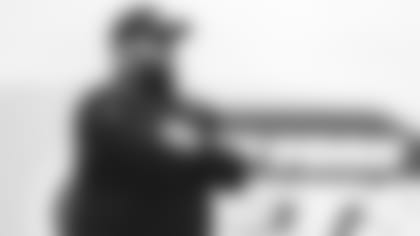 The NFL's negotiating period begins Monday when the Jets and all 32 clubs will be able to contact and enter contract negotiations with certified agents of players who will become unrestricted free agents on Wednesday. The 2023 League Year and free agency will officially begin on Wednesday at 4 p.m. New York time, but the Jets have already been involved in meaningful negotiations this week in the run-up. 
Targeting a veteran quarterback, the Jets met a couple of times with street free agent Derek Carr before the Raiders' former signal-caller agreed to a deal with the Saints. Last week, it was reported that Jets brass traveled to California and met with Packers QB Aaron Rodgers and talked about the potential of a seismic trade that would bring the four-time NFL MVP to New York.
When addressing the media at the NFL Combine, GM Joe Douglas said of the QB search: "We're going to look at every available option. We feel like when it's time to make the right decision when everyone goes through their process — we're going to make the best decision for the Jets."
While fans continue to refresh their social media pages for the latest on the likes of Rodgers, Lamar Jackson (who received a non-exclusive franchise tag from the Baltimore Ravens) and Jimmy Garoppolo, the Green & White will continue to stick to their process.
Jets HC Robert Saleh said: "As a coach, you always want it done yesterday, right? We appreciate everyone's process, we appreciate how everyone is going about it, we appreciate the time everyone needs. It's just being deliberate in our process and making sure that we're taking care of our stuff, but also being mindful and respectful for other people, too."
After reportedly restructuring the contract of TE C.J. Uzomah on Wednesday, the Jets got under the league's salary cap of $224.8 million. It's possible more restructurings could be on the horizon as the Jets continue to arrange their puzzle pieces.
"We feel confident," Douglas told reporters. "One, we have a great team, football admin team of Dave Socie, Nick Sabella and we still have a lot of flexibility. As you guys know, we hardly have any money prorated into the future on our salary cap, so we have great flexibility to create very large amounts of cap space if necessary."
When asked about the team's approach to free agency, Saleh deferred to Douglas before talking about a sensible outlook.
"Judicious, I guess," he said. "You know there's certain things, certain places where we need to improve on, but obviously the draft is going to give us some of those opportunities, too, the quarterback position like we talked about. But as far as defense, just making sure that we can run it back with the guys we have and then offensively, seeing if we can be judicious in our approach."
Among the Jets' 19 unrestricted free agents, 6 were starters in addition to K Greg Zeurlein. Once the Jets get their veteran quarterback, they won't have glaring needs and they will have less money to work with. But movement will continue for a team that started in motion weeks ago.