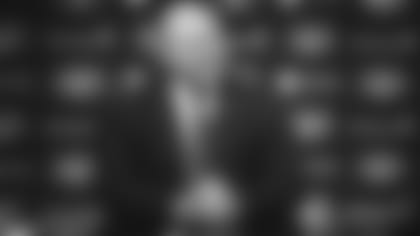 The calendar has shifted to March and the coming spring promises new hope and renewal. The Green & White are taking advantage of the longer days with ongoing preparations for free agency and the draft.
In two weeks, the Jets and the NFL's 31 other clubs will be allowed to negotiate with agents of prospective free agents. And then on St. Patrick's Day, the 2021 NFL League Year will commence with free agency and the onset of the league's trading period. The Jets, more than $67 million under the projected salary cap according to OvertheCap.com, have bountiful options and different directions available to pursue.
Both Jets' GM Joe Douglas and HC Robert Saleh are expected to meet virtually with the media this week instead of the tradition of coaches and league executives huddling with the media at the NFL's Scouting Combine. As the fight with the pandemic rages on, the NFL continues to make necessary adjustments with the aim of keeping people as healthy as possible.
Speaking of health, the Jets will embark on an offseason with healthy capital in terms of dollars and draft assets.
"Part of what we've done is try to put ourselves in a better financial health moving forward," Douglas told reporters last November. "I think we're on our way to doing that. But ultimately, I think when you look at successful organizations, no matter what the sport, you don't see a lot of teams that build long-term success by buying their way out of it. You see the teams, the organizations, that have long-term success, they draft well and they develop their players. I think that's the model. I think that's our vision."
The Jets have 19 players who can become unrestricted free agents including Team MVP Marcus Maye; OLB Jordan Jenkins, the team's longest-tenured player; plus the NFL's third-leading career rusher in Frank Gore; and former Super Bowl MVP Joe Flacco. When the Jets were struggling last season, Douglas reiterated that his vision for the Green & White had not changed.
"I think it starts up front, and I think it starts with the offense and defensive line," he said. "That's going to lead to the rest of the team, and so we really have to win the line of scrimmage first. We have to add explosive playmakers. We have to get after the passer. We're going to have to have guys that cover well. Those are all the things, I mean, that's what the successful teams in the National Football League are doing. We have to get better, faster. And so, that's on me. We're looking at everything we can possibly do to improve all those areas."
At the end of the 2020 season, the Jets made a coaching change and the 49ers' former DC Robert Saleh took over the head post. While the front-office structure was altered at One Jets Drive with Saleh reporting to Douglas, a shared mindset was voiced in January.
"What's been made clear is that Joe and his staff want to be collaborative and they want to communicate at all levels," Saleh said. "So, every conversation that's had obviously with the staff and with Joe's staff, there are going to be a lot of discussions and there are going to be a lot of different things are talked about. Obviously, Joe will always have final say, but I really see it in the way he's communicating, I think when you communicate at the level that we have here, who has final say is irrelevant."
In preparation for free agency, Douglas and Saleh and their staffs reviewed every player on the roster and Saleh said those meetings would set the "foundation" for the offseason. Saleh retained respected special teams coordinator Brant Boyer, but the Jets are transitioning to a 4-3 defensive front and a (Mike/Kyle) Shanahan scheme under DC Jeff Ulbrich and OC Mike LaFleur.
"We've evolved past the Seattle stuff," Saleh said of the defense. "I know people will try to compare us to that. This is our version of what we've done. We are more of a four-down front, let those d-linemen go get vertical and, with three stack 'backers, with the main intent to get as much speed on the field as possible, and at all three levels."
While speed will be imperative on defense, the new system on offense will feature a run game that sets up deep passes and will include plenty of QB movement.
"A lot of pre-snap movement, a lot of help for the quarterback, run mirroring with pass," Saleh said. "There's going to be a clear identity of what we're trying to accomplish down-in and down-out on the offensive side of the ball."
The madness of March is upon us, but expect the Jets to stick to their game plan. With multiple holes to fill and a sound financial situation, the Jets will take a calculated approach and be ready to strike because of their flexibility. And no matter what they do before the draft, it will be a collaborative effort with a two-fold goal of improving the talent on the roster and building for sustainability.
Take a look at the Jets players slated to become unrestricted, restricted, or exclusive rights free agents when the NFL's free agency period begins.