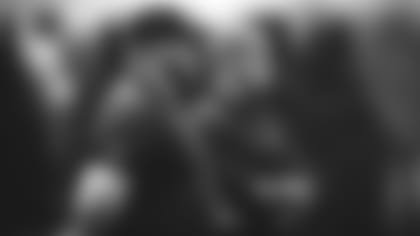 On Thursday, the 2022 NFL Draft will begin in Las Vegas. While most of the shuffling of the deck is complete, the Jets still have some final prep work ahead before it's dealing time.
"As soon as the scouts get back in, we'll have some more follow-up meetings in terms of setting the board," said Jets assistant GM Rex Hogan. "It's really never set until the draft starts, and then it resets with each one of the picks. You have to be able to be flexible and prepare for anything that can come about here within the next week, whether its information you get or something that might happen to a player. So, we just always have to adapt and adjust to it."
The Jets hold valuable chips, starting with their highest top-two picks combined — No. 4 and No. 10 — in their history. And after selecting QB Zach Wilson with the No. 2 overall selection last April, the Green & White can focus elsewhere early.
"It makes the preparation a lot easier," Hogan said. "It's one less position that you have to focus on. Now you focus on adding protection and playmakers offensively and then addressing the needs on defense. It makes life a lot easier from our prospective."
The Jets started the offseason in January with HC Robert Saleh's staff coaching the National squad for a week during the Senior Bowl. Not only will they benefit from that unique exposure, but the NFL resumed its 30 prospect visits for teams this spring for the first time since the World Health Organization (WHO) declared Covid-19 a pandemic on March 11, 2020.
"I think we were able to get two guys in before everything got crazy before the 2020 draft," said GM Joe Douglas. "But after that we've had a year where there was no Combine but pro days, a year where there were no pro days but a Combine, so it's good to have this face-to-face time with players. Not only from our perspective, but to get these guys in our building to have them spend time with our player development team, our media relations team, and a lot of different touchpoints in the building, so they can see what their day-to-day life is going to be like as a New York Jet."
After the Jets hired Saleh in January 2021, they not only landed Wilson in the draft ,but Douglas also secured G Alijah Vera-Tucker (Round 1, No. 14), WR Elijah Moore (Round 2, No. 34) and RB Michael Carter (Round. 4, No. 107) before taking six defensive players on the draft's third day including nickel Michael Carter II (Round 5, No. 154) and CB Brandin Echols (Round 6, No. 200).
"It's Year 2," Hogan said. "The level of comfort that we have with the coaching staff and what they designate as their profile for each of the positions, now we, including our player personnel and scouting staff(s), have a comfort of what they want. It is a combination of what they want in their profile and our understanding of what they want in their profile and then bringing it into the building in addition to the guys who have the highest level of character, the desire to improve with a growth mindset, and guys that not only want to make it to the NFL but have a sustainable career."
The Jets want competitors and Douglas said that he wants to add some "freaks" to a team looking to close the gap inside the AFC East. The Jets, who also have picks 35 and 38 in Round 2, have four top-40 selections for only the third draft since 1970.
"We go into every draft with our top 150 players, and they're ranked specifically for the New York Jets," Douglas said. "I think you can get into trouble if you start going need vs best player available. So, I think it's important for us to really follow the board, and always take the best player available."
If Douglas keeps his top four selections, he expects them to be starters at some point. In a perfect world, he added that third-round picks will ultimately become starters as well. But after trading back in 2020 and moving up in 2021, Douglas will operate with flexibility on the trade front.
"It's going to pick up as we go throughout the week and as we go into next week," he said of calls with teams. "I think every team is on a similar schedule in terms of finishing up their 30 visits, which was (Wednesday). They're finishing up meetings with their personnel, scouting staffs, and I think you'll see this week leading up to the draft is when a lot of these conversations start heating up."