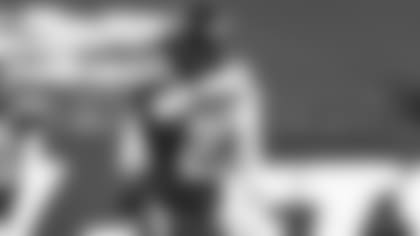 The Jets media guide and the stat sheets from the victory over the Los Angeles Rams last Sunday list Arthur Maulet as a "CB," a cornerback.
While that's been an accurate characterization during his four years in the NFL, Maulet found himself in a new position (free safety), with new responsibilities against the Rams, playing for a different coach in interim defensive coordinator Frank Bush.
"We had a good scheme," Maulet told The Official Jets Podcast with Bart Scott and Dan Graca. "Frank did a good job of putting us in the right place.
"With a new coordinator, the opportunity for you is now here. Either you take advantage of it or not. Do your job and you'll be fine. If not, get off the field because you're hurting the guy next to you. He [Bush] made it simple for us, by Friday you knew what you needed to do. If you don't, then the guy next to you can't trust you so you can't be out there. When he said that everyone toned in and really got the job done."
Maulet teamed with strong safety Marcus Maye and the Jets' collection of young cornerbacks in limiting QB Jared Goff and the Rams to only 189 net passing yards in the 23-20 win, the Jets' first of the 2020 NFL season. Maulet was in on only 2 tackles, but did not allow a Rams receiver to get behind him. He played on all 59 snaps on defense (100%) and will finish out the season at free safety, Head Coach Adam Gase said.
"We're probably going to keep what we have," Gase said. "Going into the week we decided what to do, move Marcus down and put Arthur back there. [Mathias] Farley does so much on specials [20 snaps; 69% on special teams on Sunday] and I felt that helps us as a team. We're going to stick with that. I thought Art did a great job yesterday [Sunday]."
Maulet, 27, was a restricted free agent after the 2019 season who was re-signed by the Jets last March. In 2019, he started six games (the Jets were 5-1 in those contests) and had 23 tackles, 4 TFLs and 1 INT. [Not to be forgotten was a fumble recovery returned for a TD in a loss to the Patriots in Week 3.]
This season, Maulet (5-10, 190) landed on IR with a groin injury after the Week 2 game against the 49ers and did not return until the Week 8 game at Kansas City. Through his 9 games, Maulet has 22 total tackles, 1 sack and 1 INT. One of the Jets' rookie defensive backs, Javelin Guidry, said recently that Maulet has been a willing mentor to the team's young DBs.
Last Sunday, Maulet said he sensed that the Rams were expecting "a walk in the park" against the Jets. That, obviously, was not to be.
"Once we got those first two threes-and-out we were on a roll and felt like we could stop them any time we wanted to," he said. "Honestly I think they took us lightly. Going in we had a chip on our shoulders. We came in to win the game. You have to give respect to any given team.
"I think we did a great job. We don't want to harp on what happened in the past this season. We're looking to the future and the next opponent [10-4 Cleveland at MetLife Stadium on Sunday]. We don't think about what's happened. We take a step at a time and move ahead."
Back home in New Orleans (where he has a mobile detailing business to go with his trucking company, which is based in Dallas), Maulet will miss Christmas with his family. But he and several teammates will be celebrating this week.
"Every team does a Secret Santa and I have a couple of rooks who I'm going to give presents to and a couple of other teammates," Maulet said. "Just chill with those guys. That's my family away from home."