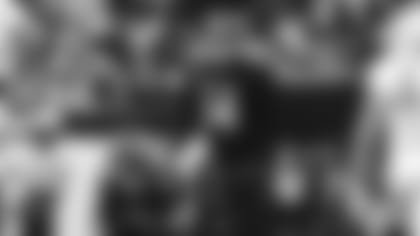 For the past two decades, quarterback Tom Brady and the New England Patriots have dominated the AFC East while claiming 17 out of 20 divisional championships. A six-time Super Bowl champion, four-time Super Bowl MVP, three-time NFL MVP and 14-time Pro Bowler, the 42-year old former Patriots quarterback stirred up the division after making his first career change and signing with the Tampa Bay Buccaneers.
"Twenty years ago, we both came out of the 2000 Draft and he obviously went in the sixth round, and it's been just an unbelievable run for him," said former Jets tight end/ESPN college football analyst Anthony Becht, a West Virginia product who was taken by the Jets 172 selections prior to Brady. "It's been a long string of events when you put together the work ethic and everything that he's done for himself to make himself great and I think it has really separated him not just at the quarterback position but also for every player that's played here for the last twenty years…You can now see the Jets trying to build their team up and really every other team now trying to take an opportunity to catch up and get above the hump here because of the opportunity that's opened up in the AFC East."
Since Brady entered the AFCE, the Jets' sole division title came in 2002. And while the Green & White haven't made the postseason since 2010, Becht believes they are headed in the right direction under new leadership.
"One, they should feel real good because they have their quarterback in place," Becht said of Sam Darnold. "You've got guys coming back from injury and I'm really excited about Joe Douglas. He's made some key moves up front at the offensive line early on, he's signed a few in-house players back…This is a great opportunity for the Jets."
He added: "As good as New England has been, and of course I'm sure they're going to make the right move at their quarterback position, this is the time where you can pull yourself ahead or away from the pack."
Douglas has emphasized protecting the 22-year-old Darnold throughout the offseason, reportedly agreeing to terms with four offensive linemen and officially re-signing G Alex Lewis. The Jets are scheduled to have four of the top 79 picks in April's draft and Brady is a Buccaneer.
"This is a great time to be a Jets fan," Becht said. "I think they're positioned properly like we talked about in the draft. Tom Brady is not only not in the division but not in the conference and that sets a huge bar."
He added: "The Jets have to be those trendsetters early to take advantage of that, and ultimately that will give them confidence. Winning one or two games in a row is really great, but the really good teams that come out each year can really win three or four games in a row. Those are the kind of trends that you want to look for when you are looking for the teams that are really good."