This season we've seen the emergence of RB Joe McKnight as a multitalented threat. A tailback by trade, McKnight has adapted to his role as kickoff returner and has ascended to the top of the league in average yards per return. His instincts as a running back certainly helped ease the transition, as the two jobs require similar skill sets.
Rookie Flight Crew member Angelica can relate. She has used her skills as a dancer to segue into an opportunity to cheer for the Jets.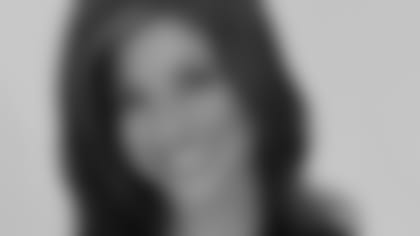 "The transition at first was difficult because I had to break some habits that I had as a dancer," said Angelica, this week's Gameday Girl leading up to the Jets-Patriots game Sunday night. "I had to learn the style of a cheerleader because I had never done it."
A lifelong dancer, she used her skills to secure a roster spot with the Flight Crew when she auditioned for the first time in April.
"During our training camp, I really used that time to work on my cheerleading style," she said. "The other girls have really helped me out a lot. I always solicit them for advice and help, and I copy their style. I try to make it look like I've been doing it forever."
Now 20, Angelica lives on Long Island and works as a dance instructor. She is in her fourth year of teaching jazz, tap, ballet and hip-hop to girls from the ages of 8-13.
"I want to help them. Even if they don't want a career in dance, I want to make this the best experience they can have," she said. "It makes me realize how much I love it. It brings dance to another level for me."
In addition to helping her students, Angelica has found that her experiences as an instructor have helped her hone her own craft as well.
"You're trying to make them the best dancers they can be," she said, "and you even see things in yourself that you can work on, things that you hadn't thought about as a little girl and now you realize are really important."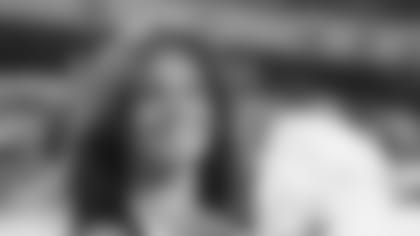 The opportunity for Angelica to blend her love of dance with a burgeoning interest in football was an easy decision. She had watched the game from a young age and became even more involved as she got older.
"I started to really enjoy it in high school. I was the team manager my senior year just for fun," she recalled. "I've been watching football for a while now, and watch it every Sunday when I don't have a game. This year made me love it even more."
In particular, Angelica points to her Flight Crew debut as the top moment of her season. Walking out onto the field at MetLife Stadium for the first time is an indelible image that will last her a lifetime.
"That feeling, I'll probably never get that back," she said. "I remember thinking, everything I worked for in the summer is about to pay off. Looking to the left and the right at the other girls — all that excitement that we had — it was the best feeling in the world."
Still a rookie, she has already adopted the mentality of a veteran, and hopes to bring her leadership to the Flight Crew in coming years.
"I feel like I've grown so much. I would love to help the rookies next year in their process on this team, to share with them everything that I know and that I've learned," Angelica said. "If I get the opportunity to do it again next year, I definitely would."