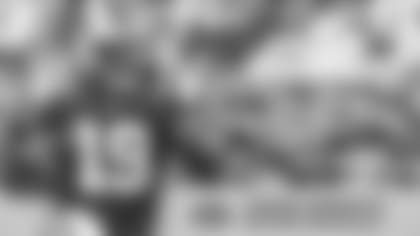 In his ninth professional season and with his fifth NFL team, Andre Roberts has been the league's best returner. And on Tuesday night, the 30-year-old Roberts was rewarded with his first Pro Bowl invitation.
Through 14 games, Roberts leads the NFL in both kick return yards (912) and punt return average (14.9). He becomes the first Jets returner to be selected for the Pro Bowl since Leon Washington in 2008.
"I don't know too many returners in this league that are dual returners that have done what he's done this year," said special teams coordinator Brant Boyer of Roberts. "You have some guys that are slightly better on kick return or whatever. But if you look at the dual stats and what he's done this year, I don't think there id a better returner in the game."
After inking a deal with the Green & White in March, Roberts made his presence felt immediately as his 78-yard punt return touchdown in Week 1 was the club's first punt return TD since 2012 and tied for the fifth-longest punt return in team history. In Week 7 against the Vikings, Roberts' 193 kickoff return yards was the highest total for any player in the league this season.
"His vision is phenomenal," said safety Terrence Brooks of Roberts. "He finds those creases and he them fast and he makes them pay. But I guess it starts up front too. We have to go out there and make sure we are on our blocks and executing for him and he finds it. Even when it's not there, he churns and he grinds for those extra yards and that's what we need in a returner and that's why we love him so much."
Roberts, whose 1,224 overall return yards is the league's top mark, has produced eight plays of 40+yards in the return game. Of those eight long returns, seven have led to scores by the Jets. No other player in the league has more than three returns of 40+yards.
"I've managed to hit some," Roberts said. "Obviously you have to have the guys in front blocking for you and they're doing a great job this year. I'm just trying to find the holes and make things happen."
The Jets will have three players on the AFC Roster for the Pro Bowl with Roberts joining S Jamal Adams and K Jason Myers. All three received invites for the first time and will face off against the NFC on Sunday, January 27th, at Camping World Stadium in Orlando, FL.
Top Images of the Punt and Kickoff Returner During His 2018 Pro Bowl Season