Final cut-down day in the NFL is a double-edged sword as players' dreams are either fulfilled or put on hold. As of late Monday afternoon, 12 Jets rookies had reason to celebrate as their names all were part of the 53-man roster.
Wideout Robby Anderson, one of three undrafted free agents to earn a spot, didn't want to hear from the Jets over the weekend.
"I joked with my agent because on draft day you're dying for that phone call, and the day of final cuts, you don't want your phone to ring," he said. "My phone actually rang at like 10:00 a.m. with a NJ area code and I had my girlfriend answer the phone. It just ended up being something with the hotel."
The Temple product stayed in Philadelphia after the Jets' preseason finale to attend his alma mater's season opener. When Saturday's 4:00 p.m. deadline hit, Anderson was driving back with his girlfriend, who was checking Twitter nonstop. Step one for the 6'3", 190-pounder was to survive the hardships of training camp and make the team. As for step two?
"Contribute and make an impact for the team so we can win any way possible," said Anderson, who led the NFL with 264 receiving yards during preseason action. "Whatever it takes to help this team, I want to do."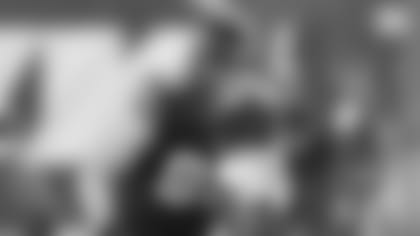 The preseason is often referred to as a player audition in front of all 32 teams. While Anderson never changed addresses, newly claimed TE Braedon Bowman has been in a whirlwind, traveling over 930 miles in the past 24 hours.
"Yesterday morning I was looking at apartments in Jacksonville, and I got the call from up here and they told me to pack my stuff," he said. "I got on the plane and got here around 10:30 last night and then got to the facility this morning."
Bowman spent training camp with the Jaguars after going undrafted out of South Alabama. He has yet to receive the playbook, but the 6'4", 240-pounder practiced Monday after being cleared and he's excited to have the chance to play for the Green & White.
"Seeing their roster only having two guys outside of the addition of me and Brian Parker, the opportunity I have here is really appealing to me," he said.