Hey, Jets fans! Amanda here from the Flight Crew Cheerleaders!!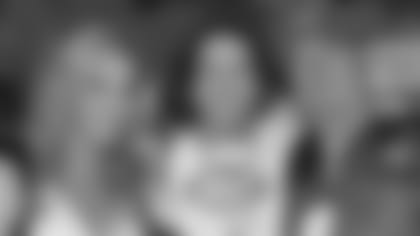 Thanksgiving week has come and gone, a holiday that I think is one of the best holidays ever. It's that time of year when you get to spend endless time with your family and eat some of the best food we can make. Getting to see my family, some of be biggest Jets fans there are, is always a joy during the holidays.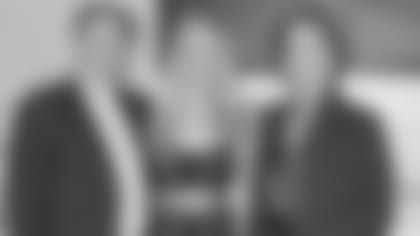 While being a part of the Flight Crew Cheerleaders for three years, I have learned how to make great meals and keep them healthy. We are always looking for recipes that taste great, while being practical and healthy. So I thought I would share with you some tasty recipes I made this year during Thanksgiving, for my home-cooked family meal!
1 can (8 ounces) pumpkin puree
1 cup unsalted vegetable broth
1/2 teaspoon ground cinnamon
1/4 teaspoon ground nutmeg
1/8 teaspoon freshly ground black pepper
1 green onion, green top only, chopped
In a large saucepan, heat 1/4 cup of the water over medium heat. Add the onion and cook until tender, about 3 minutes. Don't let the onion dry out. Add the remaining water, pumpkin, broth, cinnamon and nutmeg. Bring to a boil, reduce heat and simmer for 5 minutes. Stir in the milk and cook until hot. Don't boil.
Ladle into warmed individual bowls and garnish with black pepper and green onion tops. Serve immediately.
Turkey with Balsamic Brown Sugar Sauce
1 whole turkey (about 15 pounds), thawed
4 sprigs of fresh rosemary
1 cup defatted pan drippings
3 tablespoons brown sugar
Preheat the oven to 325°F. Rinse the turkey inside and out. Pat dry with paper towels. Place the turkey breast side up on a rack in a roasting pan. Rub the turkey with the oil, a sprig of rosemary and garlic cloves. Place all of the rosemary and garlic inside the bird. Loosely tie the legs together. Place into the middle of the oven.
When the skin is light (after about 1½ hours), cover the breast with a tent of foil to prevent overcooking the breast. Check the doneness after the bird has roasted about 3 to 3½ hours. Turkey is done when the thigh is pierced deeply and juices run clear (180-185°F) or when the breast muscle reaches 170-175°F.
Remove the turkey from the oven. Let it stand about 20 minutes to allow juices to settle in the meat. Deglaze the pan by adding 1/2 cup water. Stir to scrape up browned bits. Pour pan drippings into a gravy separator. Reserve 1 cup of defatted pan drippings for sauce.
To make the sauce, in a pan or microwave dish, stir together the vinegar, defatted pan drippings and brown sugar. Warm the sauce until the flavor is just released, about 15 seconds in the microwave or over low heat on the stove until steam "escapes." Don't boil.
Carve the turkey and drizzle turkey slices with the warmed brown sugar sauce. Serve immediately.
Stuffing with Cranberries
1 cup low-sodium chicken broth
10 slices whole-wheat bread, toasted and cut into cubes
1 teaspoon dried tarragon
1/8 teaspoon ground nutmeg
1/2 cup chopped fresh cranberries
1 cup whole water chestnuts
Preheat the oven to 350°F. Lightly coat a 2-quart baking dish with cooking spray.
In a large skillet, heat the chicken broth over medium heat. Add the celery and onion and sauté until the vegetables are tender, about 5 minutes. Remove from heat.
In a large bowl, combine the bread cubes, parsley, tarragon, paprika, nutmeg, cranberries, water chestnuts and chopped apples. Add the onion and celery mixture. Stir to mix evenly.
Spoon stuffing into the prepared baking dish. Cover with aluminum foil and bake for 20 minutes. Uncover and bake 10 more minutes. Serve immediately.
Caramelized Bread Pudding
12 ounces sturdy multigrain bread, cut into 1-inch cubes
1 tablespoon unsalted butter
3 large, firm yet ripe pears, peeled, halved, cored and thinly sliced
2 3/4 cups 1 percent low-fat milk
3 tablespoons turbinado sugar or firmly packed light brown sugar
2 teaspoons vanilla extract
1 teaspoon ground cinnamon
1/8 teaspoon ground cloves
Preheat the oven to 350 F. Lightly coat a 9-inch square baking dish with cooking spray. Arrange the bread cubes in a single layer on a baking sheet. Bake until lightly toasted, about 5 minutes. Set aside.
In a large, nonstick frying pan, melt 1½ teaspoons of the butter over medium heat until frothy. Stir in 1 tablespoon of the canola oil. Add half of the pear slices to the pan and sauté until evenly browned, about 10 minutes. Sprinkle a generous pinch of allspice onto the pears, then transfer them to a plate. Repeat with the remaining butter, oil, pears and allspice.
Arrange half of the toasted bread cubes evenly in the bottom of the prepared baking dish. Top with half of the sautéed pears and then the remaining bread cubes.
In a large bowl, combine the milk, eggs, 2 tablespoons of the sugar, the honey, vanilla, cinnamon and cloves. Whisk until well blended. Pour the milk mixture over the bread and cover with plastic wrap. Let stand for 20 to 30 minutes, pressing down gently every so often until the bread absorbs the milk mixture. Remove the plastic wrap and arrange the remaining pears on top. Sprinkle with the remaining 1 tablespoon sugar.
Bake until a knife inserted into the center of the pudding comes out clean, 45-55 minutes. Let cool for 10 minutes before serving.
I hope you enjoy these tasty recipes! Even typing them out for you is making me hungry! I hope all of you Jets fans, and your families, have delicious food-filled holidays this season! See you on the field!