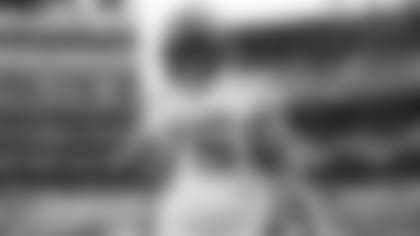 The Jets' victory at Denver on Sunday came at a huge cost -- not only did rookie running back Breece Hall sustain a season-ending knee injury, but second-year offensive lineman Alijah Vera-Tucker will also miss the final 10 games of the regular season after sustaining a torn triceps that will require surgery.
"It's something we feared last night," head coach Robert Saleh said during his press conference Monday afternoon, referring to AVT's injury. "It's always tough, there's two potential Pro Bowlers."
Vera-Tucker, who has played right guard, left tackle and right tackle on the offensive line this season, left the game on Sunday late in the first half of the 16-9 win over the Broncos. At the time, his issue was described as an "elbow injury."
Up until Sunday, when he played in only 16 (27%) of the Jets' 59 snaps on offense, AVT had taken 100% of the snaps on offense in the previous six games of the 2022 NFL season. Right side, left side ... it simply didn't matter to the versatile and whip-smart offensive lineman out of USC. AVT was replaced at right tackle by Cedric Ogbuehi, a veteran who had played in 60 games for four teams in his eight-year NFL career.
"It's just a testament to the guys in this O-line room," center Connor McGovern said. "Everybody wants to go out and play for each other, it doesn't matter who it is. It's a real testament to the coaches, to Cedric, who came in a couple of weeks ago. He came in and played a pretty good game. It's not ideal, but there's nothing we can do about it but take what's given and make the most of it, winning games and rolling with punches as best we can."
The fluidity on the offensive line extends back to training camp when Mekhi Becton incurred a knee injury that cost him the season. Becton had been moved to right tackle as George Fant, who had replaced him in the 2021 season, started the summer at left tackle. Then the Jets signed the 37-year-old Duane Brown to a two-year contract in mid-August to take over at left tackle, shifting Fant back to right tackle. Fant then was injured and has yet to return (Saleh said he's not far off). He was replaced by rookie Max Mitchell, who has also missed time because of injury.
Brown has returned and formed a strong, veteran tandem on the left side with Laken Tomlinson, who signed in free agency, as they protect QB Zach Wilson's blindside.
"We've done pretty well," McGovern said. "A lot hasn't happened in the middle of a series or two-minute drives. The coaches keep everybody in line and on the same page. The transitions have been smooth. Everyone that's come in has handled the opportunity really well. Unfortunately, the injuries we've had, especially at tackle ... it's just the cards we've been dealt and we're just dealing with it the best way possible."
Even with all the moving parts on the offensive line, the Jets rushing attack has been powering the offense (with a 4.4 yards a carry average) during the Green & White's four-game winning streak. Up next are three straight, important games against AFC East teams -- home-and-away against New England (Sunday and on Nov. 20) with a home game against Buffalo (Nov. 6) sandwiched in between the two Patriots games and the bye week (Nov. 13).
"All the guys in the O-line room are capable of making plays and doing what they have to do to help us win," said running back Michael Carter, who is expected to carry much of the load in Hall's absence. "I have confidence in every single one of those guys."