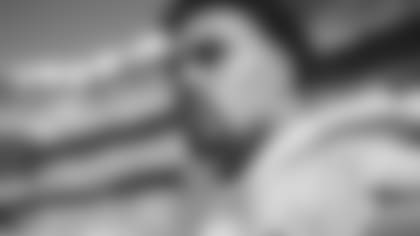 After playing 1,039 snaps at left guard his rookie season, Alijah Vera-Tucker moved to right guard before his second campaign after the Jets' signing of Laken Tomlinson in free agency. He started the team's first three games there before injuries necessitated a switch to left tackle for the Jets' Week 4 matchup against the Steelers in Pittsburgh. The AVT shuffle continued as he jumped to right tackle the next three games before sustaining a season-ending torn triceps in the Jets' 16-9 win at Denver on Oct. 23.
"Wherever the guys needed me to play — that's where I was going to play," Vera-Tucker said. "Whatever was best for the team. But it was really fun to be out there for those seven weeks. I felt like the team was really on a on a rise."
With Vera-Tucker and electric rookie RB Breece Hall in the lineup, the Jets were 5-2. Minus two of their best players, the Green & White went 2-8. Vera-Tucker's versatility was unique, with ESPN reporting that the second-year pro became only the third lineman since 2006 to play four different positions in his first 22 games.
"Obviously going down, me and Breece, it was tough," Vera-Tucker said as the players emptied their lockers. "It would be tough for anybody, but just being around the guys in the locker room really helped me out. Breece and me in rehab, going crazy in there, Mekhi [Becton] as well, working his tail off. It's good to have guys around you. The mentals are good and I'm just ready to get back ASAP."
Vera-Tucker kept good mentals his sophomore season despite the lineup dance. After he performed well at left tackle during the Jets' 24-20 comeback win over the Steelers, he finished his year at RT in victories over the Dolphins and the Packers, in addition to his 26 snaps in Denver.
"You don't ever anticipate ever having to move a young man like this," head coach Robert Saleh said. "You want to get them settled, especially when you speak about our philosophy, and what we believe in terms of you don't want to be someone who has 10,000 kicks that he practices one time each. You want someone who has one kick that he practices 10,000 times. To move guys is not in our DNA. It's not what we want. It's kind of been out of emergency and with what has happened at that position. To his credit, he's been lights out. He's done it without even flinching. He's got so much confidence in himself."
Pro Football Focus graded Vera-Tucker 15th overall among 78 guards and the mauler's 76.5 run-block grade placed him sixth overall. His selflessness and consistency received high praise from his peers in the locker room.
"AVT's a future Ring of Famer, and if not a Ring of Famer, a Hall of Famer," said C Connor McGovern. "The dude's a freak. He's the epitome of a great offensive lineman. I wish I could describe how hard it is, what he's done the past couple weeks, but unless you've played the position, it's hard to understand. I know a lot of time we just get grouped as an offensive line or the O-line, but to go from guard to tackle is incredibly difficult. It's not a completely different game, but it's a different game.
"And then not only that, to flip sides, all of the plays are backward in your head now and it's absolutely incredible to see him do that, be so selfless to go out and do that when he's having a Pro Bowl year at guard. Not only to go out and just play but play at an extremely high level at both tackles and guard, it's incredible. There are a few guys in history that can do that and he's one of them."
The Jets' search for an offensive coordinator continues and the Green & White need stability at quarterback. T George Fant, C McGovern, G Nate Herbig, T Cedric Ogbuehi and T Mike Remmers all have expiring contracts up front, but Vera-Tucker is a foundational piece eager to rejoin a unit that featured Garrett Wilson, who eclipsed 1,100 yards receiving playing with four QBs, and Hall, who averaged 6.9 yards a touch in seven games.
"We had rookies come in and perform really well," AVT said. "We saw that from pretty much all of them, second-year guys as well. I feel like overall the team knows where we want to be — we know we have the guys to contend for playoffs, Super Bowl and now it's just about getting back out there and coming back and getting the job done and finishing."
Vera-Tucker had a great start last season and he intends on finishing what he starts in 2023.
"I'm actually doing really well with the rehab," he said. "Not lifting yet with my elbow, but I'm going to get there pretty soon. I'll be 100% for [training] camp ready to go, no issues."