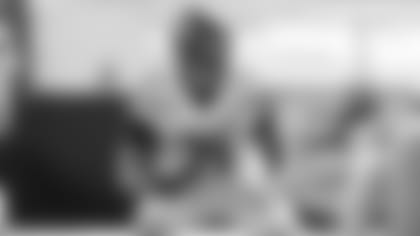 The Jets are 0-2 and the offense has yet to get on track. The unit is averaging 15 points a game heading into Sunday's matchup with the Colts and the Green & White are dealing with a number of injuries at the skill positions. While there is uncertainty around signal-caller Sam Darnold, Jets LG Alex Lewis is quite confident in the player distributing the football.
"Sam has grown leaps and bounds since the start of last year," Lewis said on the most recent installment of Inside the Jets with Dan Graca and Bart Scott. "He has the ability to recognize when he's hot, when they're bringing in more numbers than we can block. He's been outstanding."
Through two games, Darnold has connected on 62.7 percent of his passes for 394 yards with 2 TDs and 1 INT. In his third season, Darnold, who was voted an offensive captain, is speaking more forcefully.
"His leadership role has elevated, being a vocal leader when it comes to getting the energy going for guys in the huddle, pregame, coming out of practice and making sure guys are locked in," Lewis said. "He's stepping in the huddle telling everyone to lock in and eyes on him. I love seeing that competitiveness come out in Sam. He's going to grow and he has a long career ahead of him."
Jets GM Joe Douglas revamped the line in front of Darnold during the offseason and Lewis is the only returning starter from 2019. After allowing 8 sacks the first two weeks last season, the Green & White have allowed 4 over the same timeframe this season and rookie LT Mekhi Becton continues to earn rave reviews.
"I'm trying to help that rookie out as much as I can so he's not thinking," Lewis said of Becton. "I'm trying to be out there giving the word when guys are slanting, seeing if I see a tip or a tight end coming, just so that young man can go out there and play fast, physical and dominate. He's done a great job for us so far, and he's only going to get better every day."
The Jets might have to adjust up front this week if C Connor McGovern is unable to suit up in Indianapolis. McGovern sustained a hamstring injury in the second half against the 49ers and was replaced in the lineup by former Colts OL Josh Andrews.
"That's just part of the NFL," Lewis said. "You're always one play away from playing in this league. When a guy goes down, it's tough. But at the same time, you have to have the mentality of next man up. We're not going to take two steps backward when someone comes in — we're going to leave off right where we were and move forward. Josh came in and played well for us at the end of the game. It was tough losing Gov [McGovern], but Gov seems healthy and ready to roll."
Lewis, a Nebraska product who was a fourth-round pick of the Ravens in 2016, appeared in 20 games for Baltimore before being traded to the Jets on Aug. 5, 2019. He brought north an acronym that is used in Baltimore — WIN: What's Important Now? Lewis says the Jets have to maintain focus on every detail and the big picture will take care of itself.
"We're just trying to turn this ship right," he said. "We have a lot of football left. It's a long season. Just because the first two didn't go our way doesn't mean that the other fourteen won't. We have to put our nose to the grindstone and get to work and focus on the day at hand."