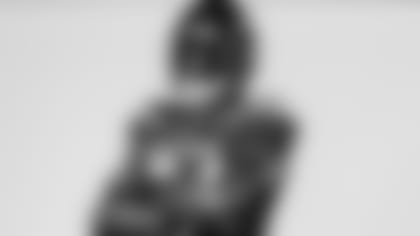 For the first time since tearing the ACL in his right knee more than a year ago, Jets LB Avery Williamson found himself thrown into the mix and participated fully in a practice.
The seventh-year veteran sustained the gruesome injury in the second preseason game, against the Falcons last August. The ACL tear kept Williamson out the entire 2019 season and required both surgery and months of rehab. Sunday at the Atlantic Health Jets Training Center marked his first showing in pads since that game in Atlanta.
"It's been a long journey," Williamson said. "From that point, I didn't know the amount of work I was going to have to put in to get back to this point and get back to my old self. I thought it was going to be a lot faster. I thought I'd be running by December. Everyone is different. I just wasn't healing as fast as I thought I would."
He added: "There's a lot of times where you have to stay mentally strong, and just making sure I was staying on top of treatment and not taking any breaks. We're just out here grinding. It's been a challenge, especially during this pandemic, I was by myself the whole time. It's been tough. Being able to get out there today and practice is making it worth it."
The 6-1, 246-pounder endured a lengthy uphill battle of recovery that put him on the physically unable to perform (PUP) list at the start of training camp. He wasn't moved to the active roster until this past weekend. Between individual drills and getting back into physical shape, Williamson was finally able to partake in the team period of practice on Sunday, taking reps with the second-team defense.
"In May, I was doing more cutting and the pain started to go away a lot more," Williamson said. "At practice, you're going to find out really quickly how it's doing, and I didn't feel any pain today. I pretty much did everything from pass to run. I'm feeling great. I just have to keep improving and getting in shape at this point, but my knee is healthy."
Even though Williamson was a starter in 2018 and '19, he knows he faces a battle regaining his starting role on defense after being sidelined an entire season. As training camp proceeds and Week 1 (Sept. 13 at Buffalo) looms, his reps and workload will continue to increase.
"I definitely have to prove myself, that's every year," Williamson said. "There's always going to be competition and there's always guys trying to take your spot. I missed a year and the guys last year played well. I definitely give them credit, they played well. I just have to come and make up ground. I have to make sure I'm on point, I have to make sure I know the playbook thoroughly, and make sure that when I get my opportunities, I have to make them count."