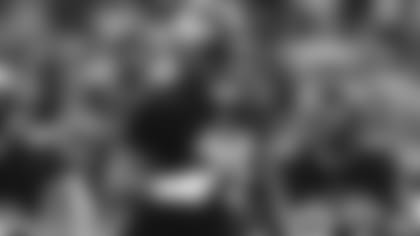 Last week, the Jets offense had a perfect start on their first three possessions vs. the Eagles. Three drives and three touchdowns for a unit that continues to get valuable rookie contributions from many, including LG Alijah Vera-Tucker.
"I'd say we were just communicating well; we were just on our aiming points," Vera-Tucker said of the Jets' hot start.
But after the Jets went 3 of 5 on third down and totaled 155 yards and 18 points in the opening 30 minutes, they went 0 of 4 on third down in the second half while amassing 126 yards, and were held without a point after halftime in a 33-18 loss.
"I felt like we kept on swinging, you know but we only had I think it was three plays in the third quarter," Vera-Tucker said. "That's just a lesson for us, when we get an opportunity, we have to be on our game 100 percent all the time because you never know when you're going to get the ball next."
It was a cold third quarter for an offense that only saw the field for 1:10 and managed 3 yards, but Vera-Tucker continues to be someone that has warmed the organization's heart. In 799 snaps this season, Vera-Tucker has allowed only one sack, tied for the fewest among all rookies with at least 500 snaps. Against the Eagles, Vera-Tucker earned his highest Pro Football Focus run-blocking grade since Week 8. A staple along the offensive line, he is already an established leader amongst his rookie classmates.
"I think [I am] just being one of the guys who try to lead part of the team at all times," he said. "I think Zach [Wilson] does a good job being vocal as one of the captains. You know Mike, both Mikes [Carters], Elijah Moore, and all the other rookies we come to practice with a certain type of energy. For all of us, we just got to keep on bringing that and a lot of guys feed off energy. So, as long as we just keep on bringing that, we'll be straight."
Vera-Tucker's QB brought it last week as Wilson had the first 3TD effort of his career. Vera-Tucker believes Wilson's success is not a surprise because the young signal-caller is doing the right things off the field.
"Credit to Zach," Vera-Tucker said. "He had a great game, but I feel like he's just the type of guy who puts in all the work, puts in all the effort, you see him leaving the facility late. So, it's almost like you expect things like that from Zach. He's definitely a hard worker."
This Sunday at MetLife Stadium, the Jets will take on a banged-up Saints (5-7) squad that enters the contest on a five-game losing streak for the first time since 2005. The Saints rank fifth against the run (94.4 Yds/G) and they've excelled in the red zone (47.2%) when the field shrinks.
"A physical front, a good d-line, they're good in the run game too so that should be fun," Vera-Tucker said. "The defense plays hard with a veteran group up there, but we are all excited for the challenge."
The Saints list three defenders on their injury report including DE Marcus Davenport, who was limited in practice Wednesday due to a shoulder injury; and rookie LB Pete Werner, who didn't participate in Wednesday's workout because of an elbow injury. DE Cameron Jordan is on the club's reserve/Covid list. The Saints did designate DB C.J. Garnder-Johnson (foot) to return from injured reserve.
"At the end of the day, you don't really know who you're going up against or who's going to be active and who's not until the day of the game" said Vera-Tucker. "So you just have to go be prepared, be in your playbook and be prepared for anything."
See the Top Photos as the Jets Prepare for Sunday's Game Against New Orleans