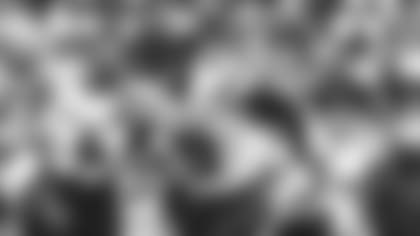 The Jets took a big swing in the spring and the "Cheetah" eluded their grasp as Tyreek Hill chose the Dolphins over the Green & White. While Hill has been electrifying as ever for his new team, the Jets landed in a good place and havereasons to feel excited about their playmakers on offense four games into the 2022 season. With the 3-1 Dolphins set to square off against the 2-2 Jets Sunday at MetLife Stadium, it's an opportune time to look at the fallout from the Hill chase and the landscape ahead.
Swings Kept Coming
ESPN's Adam Schefter reported that the Jets and the Chiefs had agreed to terms to a deal with the Green & White sending three picks (No. 35, No. 38 and No. 69) to Kansas City for Hill and Kanas City's No. 103 selection (LB Leon Chenal, Wisconsin).Hill said this week that the Jets' deal "was close to happening,", but he mentioned state taxes as one of the factors that tipped the scales to the 'Fins.
On the first night of the NFL Draft, GM Joe Douglas kept swinging. After already securing CB Ahmad "Sauce" Gardner and WR Garrett Wilson with the No. 4 and No. 10 selections, he moved back into Round 1 by shipping the 35th, 69th and 163rd picks to the Titans for the 26th and 101st picks. With that 26th pick, Douglas got the pass rusher the Jets coveted in Jermaine Johnson. In four games to date, Johnson has appeared in 80 defensive snaps and has recorded 1.5 sacks, 4 QB pressures and 12 tackles.
"He puts hands on people and people move," DC Jeff Ulbrich said of Johnson. "Extremely happy with the progress he's making. Saying that, he has a long way to go. I don't think he's even scratched the surface of what he can become."
Joe D. took another hearty cut early on Night 2, shipping the No. 38 and No. 146 selections to the crosstown Giants to select the top RB in the draft class, Iowa State's Breece Hall. Among rookie RBs, Hall is first in receptions (15) and receiving yards (113), and second in rushing yards (157) and first downs (15) this season. The Pepsi Zero Sugar Rookie of the Week rushed for a career-high 66 yards in the comeback win over the Steelers and he scored the game-winning TD, a nifty 2-yard score, with 16 seconds remaining.
"I loved his running style," HC Robert Saleh said of Hall. "We've been talking about NFL running and making DBs tackle you and there are about five or six occasions where he put his shoulder right into their sternum and ran some people over, moved piles, the run to get to the 2-yard line had big contact at the 5 and pushed forward to the 2. Same thing at the goal line."
Early Return for the 'Fins
To get their big fish, the Dolphins sent the Chiefs five draft picks combined in the 2022 and 2023 drafts: Rd 1 (No. 29 overall), Rd 2 (No. 50 overall) and Rd 4 in '22, plus fourth and sixth-round picks in '23. Despite being stripped of their own first-round pick in 2023 due to tampering, the 'Fins sill own seven picks in the 2023 NFL Draft with single picks in Rounds 1, 2, 5, 6 and 7 plus a pair in Round 3. Pairing with Jaylen Waddle, Hill has been a runaway train with a league-high 477 receiving yards (119.3 yds/g) and 217 deep yards. There have been six games this season in which a player has recorded 160+plus receiving yards and three have come from Hill (2) and Waddle (1).
Hill is a game-changer and Dolphins HC Mike McDaniel said in August on the "The Dan Le Batard Show With Stugotz" that he told Dolphins GM Chris Grier to move heaven and earth for the star.
"I quite honestly thought he was one of the untouchable guys that you couldn't get," McDaniel said. "When [Grier] comes in and tells me that the Chiefs have talked to him, I said, 'Chris, that's one of the only non-quarterbacks where you do whatever it takes.'"
Bottom Lines at Wide Receiver
After he was acquired by the Dolphins, Hill signed a four-year, $120 million extension that included $72.2 million in guaranteed money. According to OvertheCap.com, Hill's cap number is $6,485,000 but will jump to $31,200,000, $24,865,000 and $28,035,00 in 2023, '24 and '25. Waddle's numbers from 2022-24 are scheduled to be $6,155,908, $7,387,090 and $8,618,295
In 2022, OvertheCap.com has Corey Davis ($13,366, 666), Garrett Wilson ($3,737,092) and Elijah Moore ($2,031,914) combining for a cap total of $19,135,672, and then dipping slightly to $18,276,330 in 2023 with Davis ($11,166,668), Wilson ($4,671,365) and Moore ($2,438,297).
Not only does Hill lead the NFL in receiving yards (31 catches) but Waddle's 381 yards on 21 receptions rank sixth. The Dolphins' third-leading receiver statistically is Trent Sherfield, a fifth-year player who has pitched in with 8 grabs for 77 yards. Led by the prolific duo, the 'Fins top three wideouts have 60 catches, 935 receiving yards and 5 TDs.
The Jets have an intriguing top three with Garrett Wilson (20-255-2TD), Corey Davis (15-261-2TD) and Elijah Moore (15-192) that has totaled 50 receptions, 708 receiving yards and 4 TDs. The Dolphins will turn to backup Teddy Bridgewater in Week 5 when Zach Wilson will make his second consecutive start following three Joe Flacco-quarterbacked contests. The Jets quietly are tied for fifth in the NFL in explosive plays — passes of 16+yards and runs of 12+yards — with 33. Among that number, 25 of those have come from receptions, which ties for third-most in the league.
Rivalry Renewed
The Hill dynamic adds spice to a longtime division rivalry. After their pursuit of the Cheetah, the Jets got a pair of offensive standouts in Garrett Wilson and Breece Hall in the draft. There is only one Tyreek Hill, but Wilson and Hall are explosive playmakers who are only getting started.
"Weapons, obviously, they're game-changers," Saleh said after Hill signed in South Florida and before the Jets' 2022 draft. "Anyone who can touch the ball and go 80 at any moment is important. So, again, if those opportunities present, we'll attack. But at the same time, we're not in a panic either because we have a lot of draft capital and it's things we can address in the draft."
The Jets didn't panic and their 2022 draft class, which started with a player in CB Ahmad "Sauce" Gardner who will lock horns with Tyreek Hill and Jaylon Waddle on the outside on Sunday, has a chance to be special. With D.J. Reed, a free-agent addition this past spring, playing well, the CB-WR battle will be a must watch. Conversely, the Jets wideouts will challenge a Miami defensive backfield already missing CB Byron Jones and playing with a hobbled Xavien Howard.
"We all do something different," Corey Davis said this week. "We all bring something different to the table. That's what makes us really special. E has the speed, G has it all pretty much, I bring something different, so does Brax [Braxton Berrios]. So, we all complement each other well, and switch it up, what we're doing, so the defense doesn't really get a beat on us. Man, I love playing with those dudes."
The Dolphins love Hill and the Jets love what they continue to build.