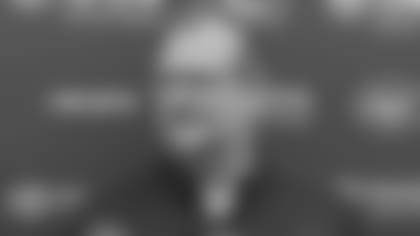 It probably won't even be a footnote when Sam Darnold's final story is written. Darnold missed only three practices of his first professional training camp before his representation and the Jets struck a deal Monday, allowing the USC product to practice with the Green & White this afternoon.
"It's take a while to get the contract done, but we feel very good about it," said Jets general manager Mike Maccagnan following Darnold's first camp workout with the Green & White. "We're happy to have him here and we feel like we're ready to go right now."
Much of the talk the last few days on Darnold centered on terms like offset and forfeiture instead of dropbacks and passes. But Jets reps and Darnold's brass kept working and reached middle ground.
"It's a process. I think both sides usually start at either end and you want to eventually find a common ground you feel good about," Maccagnan said. "That's how our process worked and I think — like everything else — you try to execute a deal in a timely fashion. Sometimes it doesn't happen as quickly as you'd like. We felt good about when we came to a conclusion and felt it was time to move forward, and as an organization felt very good about the deal."
While Darnold didn't meet with the media, he did deliver an enthusiastic greeting to Jets fans on social media and happily trotted out to practice for his first summer workout.
"I think he understands that unlike college, it's a business now," Maccagnan said. "I think with Sam, he always kind of stayed to the side and let the team deal with his agent. Then we kind of worked throughout our process and he was sort of off to the side. I do believe he was in the area, so I think he was quite excited to get back and go out here play and practice."
After taking Darnold with the No. 3 overall selection in April's Draft, Maccagnan has been thoroughly impressed with the young signal caller's body of work.
"I definitely think from an intangible standpoint — his work ethic, his approach, he's a very young passionate kid. You have to remind yourself that he literally just turned 21, but he has some kind of air about him," he said. "A very good personality, I like how he interacts with other players on the team. There is a sort of a very naturalness about him. I like watching how he deals with making mistakes and kind of bouncing back. And I know Todd and the coaches are very high on him from his ability that they've thrown a lot at him and he's assimilated quite a bit."
The book on Darnold is he doesn't make the same mistake twice. Maccagnan stressed that Bowles and Kacy Rodgers employ a number of blitz packages and Darnold never flinched in the spring. The fourth-year general manager also pointed to Darnold making plays with backups against the makings of a very good first-unit defense.
"He'll maybe have his little glitches, but he bounces back quick and he plays faster than I've seen some young quarterbacks play," Maccagnan added. "And his accuracy, I think he throws a very good ball. We thought he had a good arm coming in and obviously that's been shown. I think he has a lot of pieces to potentially develop into a very good player."