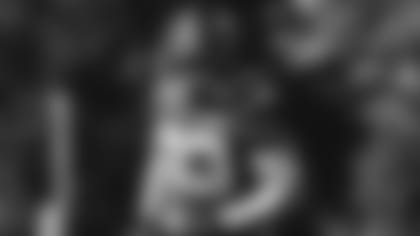 Jamal Adams had taken his heat down a few degrees from his Twitter remarks of the night before when he talked with reporters following Thursday's practice. But you could tell the coals were still glowing just below the surface for the Jets' third-year safety, team captain and uber competitor.
"The frustrating part is it's 21K," he said of the sum of the fine the NFL levied on him for his first-quarter roughing-the-passer penalty for shoving Cleveland QB Baker Mayfield. "Obviously, I'm not going to get into debt with it. But my mother told me to calm down. She was upset with me that I was cursing last night on social media, so I'm not going to curse now. But she also told me to calm down.
"I'm mad about the 21K, that's where it starts," he continued. "And it was a legal hit in my opinion. It wasn't unnecessary roughness. And if anything, it didn't look like Baker was in any pain because he got up and talked noise to me. So at the end of the day, man, I guess we can't touch quarterbacks."
Adams made it clear that he was blaming the NFL and not referee Alex Kemp and his crew, for the penalty and fine, even saying that "those guys came to the coaching staff and apologized for that call. But at the same time, those guys have a tough situation ... as far as calling certain calls. So it's very tough for me to get mad at them because they have a tough job at hand, too."
And the fiery deep man also said he had no lingering ill will toward head coach Adam Gase, defensive coordinator Gregg Williams or secondary coach Dennard Wilson for his back-to-back offside/encroachment calls late in the game, for which Gase removed him from the game for what turned out to be the final six defensive snaps of the game.
"Yeah, obviously, I have a better understanding. But as a competitor, I don't want to come of out the game. What competitor likes coming out of the game?" he said. "But we have an understanding. I told 'em I'm fine, you know what I mean? I told Gregg and my defensive backs coach that I'm fine. Was I upset with it? Yeah, no doubt. But at the end of the day, we've moved on. I don't hold grudges and we're moving on to our focus on the Patriots."
That brings up a whole new source of angst and anger among Adams and his teammates, since New England is being pegged as a favorite by more than three touchdowns for Sunday's AFC East matchup at Gillette Stadium.
"Man, I've been here going on three years. When have they given us a chance?" Adams said. "It is what it is. I'm used to it."
Is the Las Vegas/New Jersey gambling opinion on this game insulting to him? Adams shrugged and almost got out of his five-minute news conference without uttering a mild profanity.
"It doesn't matter. Nah, I don't give a damn, honestly," Adams said. "We're all going to go out there and compete."