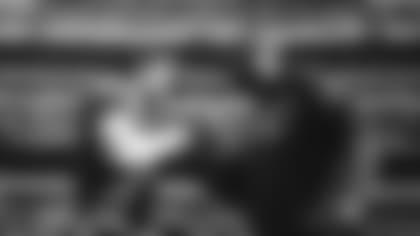 Shortly after Jets general manager Joe Douglas said the Green & White are out to prove their 6-2 finish in 2019 was not a fluke, head coach Adam Gase said the team's objective has not wavered despite unusual circumstances and roster transition.
"Our goal is always going to be playing in January, always going to be the goal," Gase said. "A lot of things happen, we have to adjust, we have to do everything we can to make sure that's where we end up. We're always going to be shooting to do that and that's going to be the goal this year, you want to get to January where a lot of good things are happening."
The Jets, who haven't reached the postseason since 2010, recently traded All-Pro S Jamal Adams to Seattle and placed four-time Pro Bowl LB CJ Mosley on the reserve opt-out list. But they believe they have their franchise passer in place in Sam Darnold. Gase said the 23-year-old QB has done a good job of being an extension of the coaching staff as he tries to bring along the new faces on offense.
"He's able to help so many more guys because of his knowledge of the system," Gase said. "When you're a quarterback, when you get those things, really take in the information, hear a formation, you're going to tell guys, 'No, you're over here, you line up here, you do this.' And you're just kind of reacting to that, that's where you really want to be at as a quarterback because now you're really focused on, 'Hey, what's the coverage, what's my progression, how do I need to throw this ball, where do I need to put it, I have to move in the pocket, so I need to make this decision.' "
Gase added the communication between him and the Jets' 23-year-old quarterback improved in the back half of the season, and Darnold's play backs up Gase's words. The 2018 No. 3 overall pick had a 93.3 passer rating in Weeks 10-17. In that span, he threw for 1,947 yards, 13 touchdowns and four interceptions while completing 61% of his passes.
"When things weren't fitting for him exactly, he was speaking up, he knew exactly what he wanted," Gase said. "Game-planning for us went really a lot smoother that second half. The more games you get under your belt with each other, the communication becomes very crisp and really it is going to be about cleaning up some of the details."
Despite being away from the facility for six months, Darnold had an impressive spring both in the classroom and on the field. He worked with private QB coach Jordan Palmer in California, focusing on deep-ball accuracy and using more power while throwing to his right. Gase hopes system familiarity will allow Darnold to focus on ball location, coverages and protections.
"Just kind of being in meetings with him, I've really been impressed how much he works himself on learning what defenses are trying to do pressure-wise and how he can help himself and when he talks through these things in meetings," Gase said. "It gets us really excited because he's spent a ton of time on his own doing this stuff over the summer. We're excited to get back on the field, that's the biggest thing. Once we get on the field, we're going to get a ton of stuff thrown at us from Gregg [Williams], which is great for us as an offense because you see everything before you ever start the season. I think he's excited to get going with that and being able to apply all the things that he's learned."