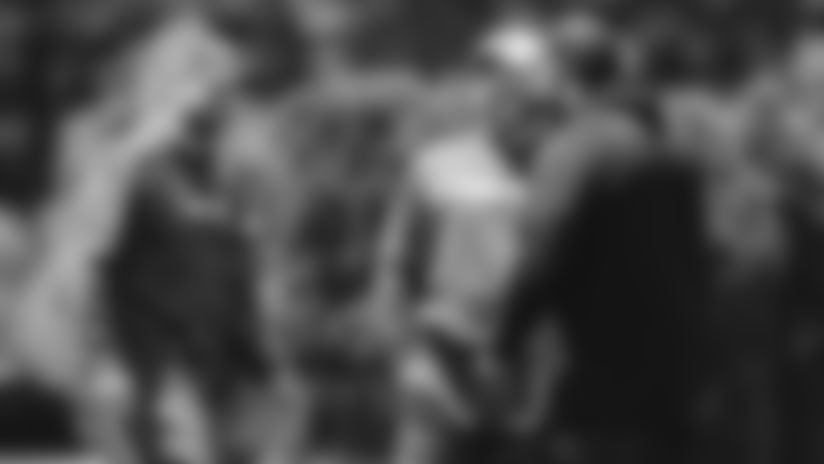 Shortly after new Jets general manager Joe Douglas took the podium to address the media during his first press conference, head coach Adam Gase stood in front of reporters and praised his former colleague for some of his greatest strengths. 
"His communication is outstanding, and his evaluation skills are unbelievable," Gase said. "He's probably one of the most respected personnel people around the league, not only by scouting circles but also by coaches. When I first met him that's one of the things that I had a lot of coaches tell me—if Joe says he's a good player, believe him…Coaches respect him."
The two first crossed paths when Gase worked as Chicago's offensive coordinator and Douglas as the team's director of college scouting in 2015. During Douglas' introductory day in Florham Park, both he and Gase spoke on the immediate relationship that was formed during their time with the Bears. Now that the pair has been reunited in the Green and White, Gase is eager to get started.
"I think Joe is going to have a big impact right away," Gase said. "He's a very easy person to talk to, he's very engaging. He's going to meet a lot of players very fast, and I know we only have four days left, but it's a good time for us moving forward and heading into training camp because we have some time to get ready for that and have discussions and have everybody get on the same page."
The search for the new team GM, headed by CEO Christopher Johnson, took nearly a month to complete. And one common theme that seemed to arise from all three individuals—Johnson, Gase and Douglas—was that their "vision" for the future of the Jets was the same.
"We talked a lot about team building, organizational building, and making sure that everyone is on the same page," Gase said. "Communication is huge. Professional football has gotten to the point where you have to make sure everyone is in the same line. You have to make sure everyone is on the same page. There are a lot of things that go on in that, and I think Joe does a great job at that."