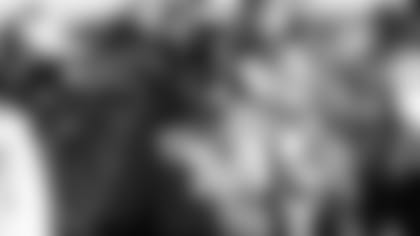 The best thing that could be said about the Jets' 35-9 loss at Kansas City on Sunday was that on defense they followed similar patterns to last week's loss to Buffalo: Make the opponent drive the length of the field, make some plays here and there, limit damage in the red zone.
The worst thing that could be said was that instead of the defense holding the Chiefs to six field goals, four outside the red zone, as they did the Bills, they allowed Patrick Mahomes and the Chiefs to throw five touchdown passes, four from outside the 20.
Needless to say, that wasn't enough to encourage Jets Head Coach Adam Gase.
"It's obvious we're not where we wanted to be," Gase said after his team fell to 0-8 at roughly the midway point of the season.
"I'm just like everybody else in the aspect of I'm doing this job to win, not to go out there and get my face stomped in. That's just like all the guys in the locker room. But we'll go back to work, get things corrected, and when we go back to practice, have that same energy I've seen week after week."
As mentioned above, some of the issues will seem familiar. Sam Darnold and the Jets offense, while still having difficulty scoring touchdowns, had a good first half before struggling in the final 30 minutes. The defense came in with a bend-don't-break plan and it was working fairly well until KC opened a 21-9 lead in the final minute of the first half and then upped it to 28-9 late in the third.
"We knew what kind of game we had to play," Gase said. "We did a lot of what we talked about early in the game: time of possession, getting first downs, some big conversions. But we ended up giving up a fake punt that gave them an extra possession, which was not what we needed to do. When you play these guys, you can't trade touchdowns or kick field goals. We have to play a better game, especially against that team right there."
The fake punt, a 13-yard pass from rookie punter Tommy Townsend to WR/returner Byron Pringle for 13 yards on fourth-and-4 from the Jets 49, set up, one play later, Mahomes' first of two longballs to WR Tyreek Hill for a 14-3 lead.
Then after the Jets crept to within 14-9, a Travis Kelce special drive made it 21-9 with 58 seconds left in the half. The Chiefs' All-Pro tight end had four receptions for 59 yards, including the shovel-screen for a 3-yard walk-in touchdown.
"I thought the defense, there were some really good drives where we got them off the field," Gase said. "We knew what kind of game this was going to be. If we gave up yards, that wasn't our worry. We wanted them to try to drive the length of the field, trying to shorten the game as much as possible. ... It's easier to say, harder to do."
Even in the third quarter, the Jets were still within that 21-9 range after forcing a 3-and-out and stopping the Chiefs on downs when DL Henry Anderson dropped old friend Le'Veon Bell for no gain on fourth-and-1 at the Jets 14.
But the offense, similar to the Bills game, followed up 30 minutes of promising football with 30 minutes of struggling to gain traction. The first downs went from 11 in the first half to two in the second, the yardage from 158 to 63, Darnold's passing from 12-for-18 for 107 yards to 6-for-12 for 26 yards.
With the Jets' WR corps decimated once again with starters Jamison Crowder and Breshad Perriman sidelined by injuries, there were a few drops that slowed momentum, not to mention Chris Herndon's lost fumble on a strip after a first-down reception near midfield late in the third quarter. That was just the Jets' second lost fumble this season, both by the tight end.
"We've just got to figure out what happened. It looked like he had it, then some bodies were around him, then when I saw the replay, for some reason it got loose a little bit," Gase said, although he declined to discuss benching Herndon for the New England home game a week from Monday night and beyond.
"We're playing all those guys. Right now we're trying to play as many guys as possible and see just who comes to the forefront and starts making some plays for us," said Gase, continuing to dig for answers to what ails the Jets, along with that elusive first win. "Right now, if you're active on Sunday, we need to get you out there and see if you can get something going for us."