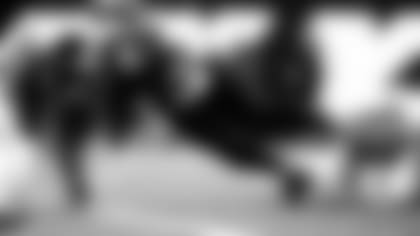 With the Jets down to third-string quarterback Luke Falk, head coach Adam Gase relied heavily on star running back Le'Veon Bell in the team's 23-3 loss to the Browns Monday night.
"I thought he gave us everything he had. I don't know how much more he could've done. I know he wishes he could've held onto that ball," said Gase, who was referencing Bell's fourth-quarter fumble that would've set the Jets up inside the 10-yard line. "He was extremely positive on the sideline, trying to keep everybody going and just trying to find a way. He wanted to get in the end zone for us."
Bell was responsible for 129 of the Jets' 262 total yards against the Browns as the 6'1", 225-pounder rushed for 68 yards on 21 carries and added 61 yards on 10 receptions.
Despite a quintessential Bell performance, the sixth-year veteran harped on two plays when talking to the media — coughing up the rock in the fourth quarter and failing to convert on fourth-and-2 with 3:49 remaining in the third frame. Bell caught a Luke Falk pass and made the initial defender miss, but he was tackled one yard short of the first down on the Browns' 11-yard line. The ensuing play, QB Baker Mayfield connected with WR Odell Beckham Jr. for an 89-yard score to put Cleveland up by 20.
"I should've got it. It was all me, period," Bell said. "I just have to be a playmaker and make a play. The fumble and the fourth-and-two, those two plays I feel like I wish I could go back and do over, but I'll learn from it. I'll watch the film and observe myself, critique myself. I'll be better."
It would've been easy for the Jets to pin Monday night's loss on their injuries, particularly under center. Sam Darnold out indefinitely with mono and Trevor Siemian was forced to leave the game with an ankle injury in the second quarter and will undergo an MRI Tuesday morning. Once Falk checked in, Gase helped the second-year signal-caller settle in his first career regular-season action by calling Bell's number on six consecutive plays.
"Once we got going, it was fine, call whatever. I just wanted to make sure I didn't just start throwing it all over the lot," Gase said. "I wanted him to kind of get comfortable, get going a little bit, get into a rhythm. I thought Le'Veon did a good job of trying to put it on his back."
Bell added, "Obviously it always causes a problem when you have a quarterback change, but it wasn't the quarterback play. It was everybody on details. We didn't execute nearly close enough for us to get a win today."
While the Green & White's schedule seems daunting over the next few weeks with the Patriots next Sunday followed by the bye week, Eagles and Cowboys, Bell is focused on the here and now.
"Take it one game at a time. We have New England coming up," he said. "We have to go back to work on Wednesday, watch the film, have a good week of practice and get better on the details and execute. We have the playmakers to do it, so just make it happen."