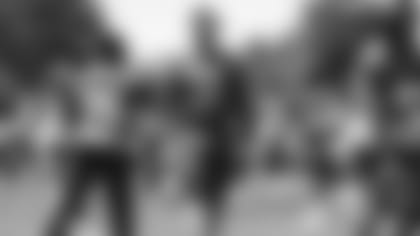 After an offseason defined by change and a new direction, Jets veterans reported to training camp Wednesday. Head coach Adam Gase, who was hired in January after leading the Dolphins from 2016-18, believes there is a palpable buzz at 1 Jets Drive.
"Everyone in this building is excited. The last couple of days have seemed like forever and everybody's just ready to get going, get the players in here (and) get our meetings going," Gase said. "Having the rookies, quarterbacks and injured guys, it's good to kind of get into the flow of things. I think everybody in our building —there is some good juice going in our building right now. We're ready. We're 0-0 and it's going to be all about how we come together. We all know we're starting at 0-0 and it's time to go to work and see how the chips fall."
While Jets rookies reported for camp on July 19th, rookie Quinnen Williams has yet to make a summer appearance at One Jets Drive. Williams, the defensive tackle from Alabama who was the No. 3 overall selection in April's Draft, remains unsigned with the club's first camp practice on the horizon.
"This happens when you get top-five picks," Gase said. "It takes time to go through these sometimes. We'll be all right."
Gase declared everyone else ready to go sans for safeties Marcus Maye and Brandon Bryant, who were placed on the active/physically unable to perform list, and rookie cornerback Bless Austin, who is on the active/non-football injury list. Maye, a third-year safety limited to just six games last season due to thumb and shoulder ailments, participated in individual drills and seven-on-seven work throughout the spring. Gase had hoped he would be full-go for camp but Maye will again be forced to wait.
"I know he was working hard. The body heals a certain way," Gase said. "He's doing everything he can to get out there. When they feel good about it and everybody is in a good spot, then he'll be out there."
The Jets have already been forced to do some tinkering on the offensive side of the ball. With tight end Chris Herndon suspended the first four games of the season for violating the league's substance abuse policy, the Green & White pivoted and signed veteran Ryan Griffin.
"We're light there (tight end) right now anyways. We were looking to add guys and he had an interest and we got something worked out," Gase said of Griffin, a 6'6", 255-pounder who had 136 receptions for the Texans from 2013-18.
The spring provided Gase a long look at his group and he liked the first impression they made.
"I like how they work. I love how meetings went in the spring," he said. "I love the attention to detail, I love how our players went out on the field and grinded. I love the way they compete. Those are good attributes to have before we put the pads on."
After leading the Dolphins to a playoff berth in his first year down in South Florida, Gase believes his first Jets group will be in contention next winter.
"We're going to play meaningful games in the end of November and December," he said. "That's what we're going to do."
There promises to be bumps ahead. The Jets have a new staff with new systems and plenty of fresh faces on the roster.
"When we get going in camp, how are we going to handle adversity? That's really going to be the key for us," Gase said. "How are we going to handle when something goes wrong? Which way are we going to go? Who's going to step up? That's what we need to know."
Beginning Thursday, Gase will lead the Jets in practices on five consecutive days. The pads come on Saturday and the wait is now over.
"We need to worry about handling our business, which, right now, is the beginning of training camp," Gase said. "We need to do a good job of making sure we're in great condition, we stay healthy, we keep learning all three phases and then when it comes time to play games, we put good games together and find ways to win."