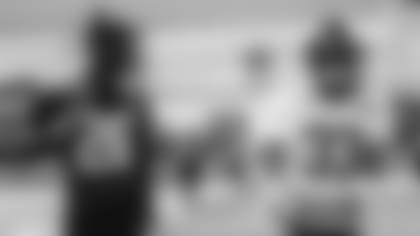 Today is the start of the Jets' mandatory full-squad minicamp. And the question foremost on reporters' minds for Adam Gase provided the answer Jets fans wanted to hear from the head coach's lips:
"Yep, everybody is here."
Everybody including Le'Veon Bell.
Bell, the big-name, big-ticket unrestricted free agent running back who's been mostly training on his own during the voluntary phase of OTAs, was in the house, a.k.a. the Atlantic Health Training Center, on Monday. And Gase laid out the approach for working the Jets' new No. 26 into the routine with his teammates from today's schedule through Thursday's final day of camp.
"We'll be smart just because Le'Veon hasn't been here," the head coach said. "I know he's been working out. I'm not really worried about him being in shape. It's more kind of football, getting back to that, getting used to terminology, what we're doing.
"Really, this is going to be big for him, to get used to the individual that we're doing on the field, him getting used to the practice routine that we're going to be doing, so these next few days will be a great opportunity for him to do that. And we'll get him into practice as far as the actual competition part of it. We'll just be very selective on what we put him in on."
And while Bell has to get used to the Jets' routine, the Jets have to get used to his game as well.
"It's great for the coaches, and it's good for the other guys as well because you get used to a guy's running style," Gase said. "We all know he has a unique running style, that patience that he has. And for me to get used to what he likes, that communication of him saying, 'I'm not really a big fan of this, but I love doing this,' just that constant communication in person, that helps a play-caller.
"I think it helps the line, helps the quarterback, and just kind of getting used to that communication that those two guys have, that's critical of routes — 'Hey, what're you thinking when you see this defense? What're you thinking when you see this leverage?' There are a lot of little tiny details that you really can accomplish in person compared to just talking through a meeting or talking over the phone or through text message."
Gase was asked if he feels his offensive system can wring even more out of Bell than the Steelers did when he was averaging 5.2 yards/touch, 86 rushing yards/game and 129 scrimmage yards/game in his five seasons in Steelers black and gold.
"As a coaching staff, you're always going to think that. And as a player, I know in his mind he thinks there's more he can do," Gase said. "And really, that's what you want to do. You want to challenge guys and you want to try to push them and get them to do more than they did the year before and just keep improving guys. And I think in this system, it's an open book. It's really how far can the player take us as far as what we want to do."
Gase said he hadn't yet gotten a sense of how pumped Bell is to turn it loose in practice, but as the coach reminded, this minicamp plus next week's final OTA practices before the team goes dark for a month is about not just Le'Veon but all the Jets as they proceed steadily toward the start of training camp in late July.
"We're just trying to get ready for practice," the coach said. "I'm sure he's excited to get back out. It's been a while for him to be back out there. It'll be good to get our guys going. It's kind of like the first step for us to see what we'll evolve to."