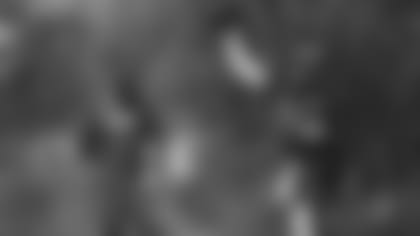 One of the primary reasons Adam Gase was brought in to lead the Jets was to mentor Sam Darnold and help the talented young signal-caller take his game to another level. Gase and Darnold have already connected well this spring, finding commonality in their passion for the game.
"Every day is a learning experience for myself, for him, the group," Gase told reporters following the Green & White's second workout of voluntary minicamp. "Competitive. He takes coaching as well as anybody I've ever been around. He wants to do things right and he works to get it right. If he makes a mistake, you can tell he tries to not make the same mistake again. He wants to make sure he learns everything, he fine-tunes things."
That is high praise considering Gase also coached Peyton Manning. The on-field learning has begun this week and will continue throughout a spring that will include a mandatory June minicamp and 10 organized team activity sessions.
"We're trying to figure out what's the most important thing to get ready for OTAs and kind of order it that way. This is why this is so good for us, getting on the grass and being able to go through all routes vs. air and ball-handling and just running plays together," Gase said. "That helps us in the evaluation process of where can we go and what do we need to fix, what do we not need to worry about. How do we fix terminology? Just a lot of give and take on the whole process."
Last November, Gase's Miami Dolphins gave Darnold plenty to worry about in a 13-6 loss. The 'Fins won a 13-6 contest which included a Jerome Baker 26-yard INT return for a TD as New York's rookie passer had four interceptions and was sacked four times.
"Matt Burke put together a good game plan where he did a few things that we hadn't necessarily shown and were different than anything that he had seen," Gase said. "He didn't believe what he was seeing. If he checks the ball down on two of those because he didn't like what he saw, he's going to live to fight another down."
Gase and Darnold will fight together in 2019. And well before they face an opponent in the fall, defensive coordinator Gregg Williams will provide plenty of resistance and numerous obstacles.
"Every day that he sees as many coverages, blitzes, all those types of things, that's good for him because he can kind of bank into his library," Gase said of the 21-year-old Darnold. "And when he gets a chance to do it in a game, he executes it."
While learning a new offense for a second consecutive year, Darnold is expected to be in the fire as he goes through his progressions against Williams' high-pressure schemes.
"I know practice can get ugly if you don't prepare for what he's going to do. You have a chance to prepare for almost like it's a game," Gase said of Williams. "You put your install in, but at the same time you have to have rules in place to handle things he's going to do or else when we hit training camp — it won't be pretty."
But the Jets have certainty at the position heading into the draft for the first time in a long time and that is a pretty thing.
"When you have to evaluate quarterbacks, it's a long process," Gase said. "It's an inexact science, it's probably the toughest position to evaluate. Whether you're in personnel, coaching or in the building, period, when you know that's something you're not really concerned about, that helps a lot."
Second Chance at First Impressions
When the Jets returned for the start of offseason workouts, Gase told them they all had a chance to have a clean slate.
"It's one of those things where you're not oblivious to everything. But I told them on April 8th that you could have been lazy, late, didn't care and you could come in and be on time and be great in meetings and play hard and play good," Gase said. "That's what I'm going to know. Whatever happened in the past is irrelevant to what we're doing now. So from April 8th on, that's what matters."