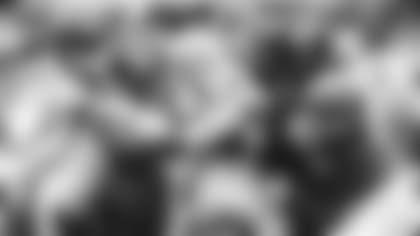 After a 29-15 loss to the Jaguars, the Jets' locker room was a somber space full of players pondering their recent struggles. Approaching the midway point of the season with a 1-6 record, head coach Adam Gase understands his players' feelings, but he is turning the page to their next matchup Sunday against the Dolphins.
"It's the toughest part about being a leader, it's the toughest part about being a head coach, the toughest part about being a captain or a coordinator or a veteran player," Gase said. "It can hurt, but once we hit Wednesday, we've got to reset. We've got to go back to work, we've got to help other guys get better and raise the play of everybody else."
Safety Jamal Adams, who wears his heart on his sleeve, is ultra-competitive and has grown tired of the losing. Gase said Adams' postgame tenor represents how the team feels.
"It's the worst part of the game and the toughest part about being a really good player is that guys are going to look to you to see how you react," Gase said, "and I think what he's done is he's gone back every Wednesday and he's reset. He's put his head down and went to work and he tries to bring guys along with him. It's all right for him to be banged up here for 24 hours but once we hit Wednesday, we've got to roll again.
"[Jamal] wants to win. To me, that's what's great about him is how he takes it to heart. It makes him sick when we lose along with a lot of other people here."
With the trade deadline less than 24 hours away, Gase is remaining focused on coaching the players on the roster.
"I guess I've just been focused on going through this last game and then meeting with the players and our team meeting, offensive meeting and special teams meeting," he said. "So for me, that's something that I can't worry about right now."
In injury news, starting ILB C.J. Mosley (groin) will be out for another 5-6 weeks. Mosley returned in Week 7 after a four-game absence, but labored throughout the contest against the Patriots and was inactive Sunday.
"He went to a specialist that he trusts and basically, they're going to try something different than surgery," Gase said. "Really the time frame they gave us was five-to-six weeks. We just thought that was better to leave him on the roster, kind of see where we're at when we hit that point, where we are with our season, and then make a determination after that."
Other Injury Notes: Quarterback Sam Darnold will play through a sprained left thumb for the rest of the season that Gase said will bother him all year. Darnold added, "It's just going to be a pain tolerance thing, which I should be fine with." Left tackle Kelvin Beachum (ankle) will try to practice this week and TE Chris Herndon (hamstring) has progressed well and could make his season debut Sunday in Miami. Linebacker Neville Hewitt (neck/knee) will see a specialist and C Ryan Kalil (knee) is week-to-week. LB Albert McClellan is still in concussion protocol and the team will continue to monitor CB Trumaine Johnson's ankle injury.
See the Top Images from the Week 8 Matchup in Jacksonville