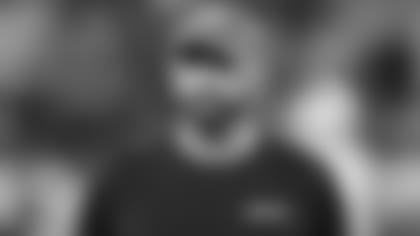 The Jets had nothing great to say about their 33-0 Monday night loss to New England at MetLife Stadium, and that included the head coach.
"Obviously," Adam Gase said in his opening remarks, "that was brutal."
The Jets thought they had a little momentum going after beating the Cowboys at home a week ago. But the Patriots, despite at times not looking their sharpest, still did plenty with the mistakes the Jets made, which included six giveaways, a minus-5 turnover margin, another sub-200-yard offensive showing, a 12:34 first quarter of possession time for the Patriots — the most by a Jets opponent in 10 years — and a 7-for-16 third-down defense.
"We just didn't do anything," Gase said. "We were bad in all three phases. It was just a bad performance. Can't play that way against these guys or else you'll look like that. It's just not good. We have a lot of work to do."
Perhaps most surprising for Jets fans was the work that Sam Darnold appeared to need. After looking sharp and in control against the Cowboys, he endured his worst performance in his two years and 16 starts as the Jets' QB. He threw four interceptions, lost a fifth turnover on a strip sack, completed 34% of his passes, and put up a 3.6 passer rating — not the worst by a starter in franchise history but close.
"When we go back and look at this, he's not going to be happy," Gase said. "He was probably feeling like guys were coming free when they might not have been. It's tough. That's what playing against these guys ... if you don't pick some of this stuff up early, they're going to keep bringing it and they're going to find different ways to bring it. Then it's just going to get bad from there. Which it did."
Several of Darnold's throws weren't close to any Jets receivers, which seemed attributable to the young QB throwing off his back foot on those occasions.
"That will happen when you get fast-pressured and you're trying to get rid of the ball. There was no rhythm. He didn't have any rhythm tonight," the coach said.
But the struggle of an evening had more to do than just with how Darnold played.
"It was a collective effort," Gase said. "I'm sure when we go revisit this, we're going to have to take a deep dive in game planning. Everything that we had going on in practice, 'Hey, did anything come up that we should've seen sooner?' you know, it didn't feel that way. But obviously we have to get some things straightened out. We just didn't give our guys enough answers.
And the danger in that is not only that this game stings for a while but the next one — in the Jets' case, on Sunday at Jacksonville — could sting in a similar fashion if the coaching staff and the players can't come together for a quick fix.
"These guys have [today] off," Gase said. "We get back Wednesday. We'll head right into Jacksonville. We'll address some of the things that happened in this game. Obviously, when you put out tape like that, you're going to see it again. You're going to see it until you stop it."