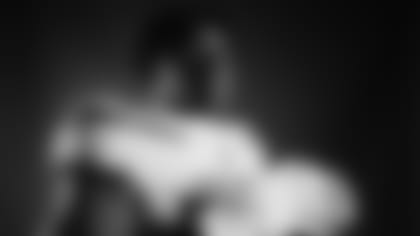 When he finished his collegiate career playing center first at South Carolina and then at N.C. Charlotte, Aaron Whitecotton was trying to figure out what he wanted to do with the rest of his life. At first, he worked construction for his dad's company, but found it to be unfulfilling.
"I just missed football so bad," the Jets second-year defensive line coach told senior team reporter Eric Allen on this week's edition of "The Official Jets Podcast." "I had to figure out a way to get back in. I went to my old high school [Myers Park in Charlotte, his alma mater] and talked to the same AD as when I was there. I asked if there's anything I could do, I have to be around the game. I talked to the coach, we hung out, but he told me he already had an O-line coach, but he said he didn't have a D-line coach."
And so Whitecotton began on a trajectory in 2005 that has taken him from coaching fresh-faced high schoolers to jobs at New Mexico State (2012), then on to the NFL at Jacksonville (2013-16), Buffalo (2017-19), San Francisco (2020) and now the Jets, when he was hired by a guy he first crossed paths with at the Jaguars -- Robert Saleh -- in January 2021.
"I think the biggest thing, going from knowing him in Jacksonville as a peer, he did a great job with the linebackers," Whitecotton said. "He wasn't daily up in front of the team's defense, and then I got to San Francisco and he was in a leadership position, so I saw him in a different light -- leading a whole side of the ball. I saw so much growth in him. When I showed up in San Francisco he was in a more leadership role, which I had never seen. It was cool to see. Here, it's a more global picture than when I got to San Fran.
"It was cool for me to see how leadership happens, how he interacts with the guys in a positive way. Just seeing that evolution from when he was down the hall to now in a big office was really cool."
Now in his second season working with defensive coordinator Jeff Ulbrich and the Jets players on the defensive line, Whitecotton says he's juiced about the system, the return from injury of DE Carl Lawson, the continuing development of Quinnen Williams and John Franklin-Myers, second-year man Jonathan Marshall, the infusion of new blood in draftees Jermaine Johnson and Micheal Clemons, the signings in free agency of Solomon Thomas and Jacob Martin, and the re-signing of Vinny Curry.
"The first thing I sense is being really thankful to have the opportunity to be here, this opportunity is amazing, and I'm thankful for that," he said. "I get to do something with this front that I believe in every day. I clearly understand there are other ways to do it well and I definitely respect those ways. But what we do, when I first learned about it, I fell in love with it. It's exciting to pour myself into it every day because I believe in the system to my core."
For Whitecotton, the gist of "what we do" on the defensive line has everything to do with versatility and depth, speed and violence, which is likely to yield a seven- or eight-man rotation come the Week 1 game against visiting Baltimore.
"You can play 55 plays a game in this front, but you can't sprint to the ball 50 times in a game," he said. "I'm talking about guys running 50 yards to the ball to run guys down, and that's after you set the edge on your man. Fifty times in a game, it's diminishing returns. When we get to critical moments in the game, Quinnen should be fresh, we have to have him ready for that moment. If we don't have third-and-8 with our best rushers to finish, we're kidding ourselves. You need rotational value, we need eight starters."
Whitcotton drilled down on his players on the D-line, with rookies reporting this week and the rest of the squad expected at the Atlantic Health Jets Training Center next week:
• On Carl Lawson: "I would say the No. 1 thing is that he's so internally driven to get the most out of his body, his skillset. He is so driven to get that constant info grab, looking all over the league to find something and then demonstrate it. He's so unique in just his drive and passion for the game and to grow. If Carl doesn't get something right away, he keeps working at it 100 miles an hour. I couldn't ask for another guy like that. I will get a random text from him asking, 'what do you think about this?' He's always thinking ball. He's a dream come true for me.
"Carl elevates people around him on the field because of the way he practices and plays. Carl is the perfect example of a guy, a fourth-round pick, where all he does is process-oriented, he has drive and just keeps on going. It's incredible for other people to see."
• On Solomon Thomas: "I know that there is another guy you can talk about who has effort that elevates everyone around him. He's intelligent and knows the game well. He plays with violence and effort. He's not a huge guy [6-3, 280], but he plays down in there in the A/B gap because of the way he attacks. On top of his talent, what he brings to the room, his approach, and the way he plays the game, there's not another guy I'd rather take my daughter to the prom, that's the type of guy he is. Solly knows what's expected of him."
• On Jacob Martin: "He comes here from Houston, so it's a new system. Here we're attack, we'll always be attack. We will get off the rock and when you look at Jake, that is what he does a great job of that. It's a way for him to flourish. He's excited to be here. He has explosives, and what we're looking for, he's got it."
• On Quinnen Williams: "I'm not one to put numbers on people, Q just has to be the best version of himself. I think we're starting to see more and more of that. His internal motivation continues to grow, we're seeing that from him more. He's stepped up more in the room, it's Year 4 and it's now coming together. He's 100 percent healthy and has to grow and get better. It's my job to help him."
• On JFM: "We want him to be more effective. He had a solid year last year, but we want to get more from him. There was a game where we had guys out with Covid and injuries and he played 54, 55 plays, 716 snaps [overall in the 2021 season]. He was gassed, he played too much and was not as effective. That's on me. When he's in there, we want to get more out of him. Last season, he 100 percent responded and his attitude was fantastic."
• On Jermaine Johnson and Micheal Clemons: "I think the biggest thing with all new guys from college is that you were probably the best in high school, all state stuff. But guess what? Everyone else in here was, too, and so was the offensive tackle. So, you're not playing some guy who's going to work at Bank of America next week. You're playing a real dude who does this for a living and has to feed his family, so you better have your A game.
"Jermaine has good pass rush instincts and hands that can't be developed. I feel like he doesn't have far to go. Just winning speed off the edge, now we have to fine tune it and it just takes time. But he's got a chance to make strides quicker."
Clemons "is violent. That's it. Violent. That's it. He's my kind of guy who goes in there every down. At times I've had to tell him that he's got to chill out. I kind of like it better when I have to tell him to pull back rather than having to tell him to giddy up. His violence mentality matches perfectly to our front and scheme, on top of his physical ability. All that stuff is 100 percent there. Violence is what I'm all about that."