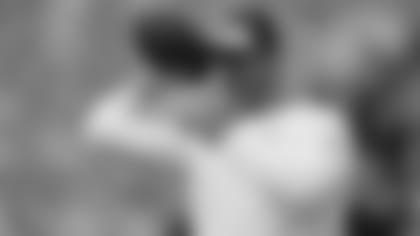 The Jets' injured quarterback was back at MetLife Stadium for the second time since sustaining what appeared to be a season-ending injury -- a torn left Achilles tendon sustained four snaps into the season. But this time, instead of tooling around on crutches and watching the Kansas City game from the suite of Chairman Woody Johnson, Rodgers gently played catch with injured CB Sauce Gardner (concussion) and then joined his teammates on the sideline as the Green & White sent the Eagles to their first loss of the season.
After the game, head coach Robert Saleh called Rodgers a "freakazoid," then expanded on his comments during Monday's day-after press conference.
"Aaron is definitely one of those individuals that is fueled by doubt," Saleh said. "If you doubt him, it only makes him stronger because he has this, 'Oh, you are telling me I can't do something? Then I am going to show you I can.' He is going to prove you wrong. He has a tremendous drive and a tremendous mindset to him. I think he gets stronger with doubters when people doubt him. His work ethic, his thoughtfulness, his connection that he has to people. He is an all-around human being and him being around this building is infectious."
A little more than a month after surgery in California, a procedure that is called a "speed bridge" that is believed to hasten recovery -- even for an elite 39-year-old athlete -- Rodgers has spoken of his desire to return to the field before the end of the NFL season. With the Jets (3-3) off this week ahead of facing the Giants in an "away" game on Oct. 29, Saleh isn't the only one wowed by the future member of the Pro Football Hall of Fame.
"I think the exciting thing that we get to witness is he's already a Hall of Fame quarterback and he's somebody that always seems to thrive when he's doubted," said TE Tyler Conklin, who encountered Rodgers and the Packers twice a year during his four seasons with Minnesota. "Whether it was all the way back to being passed up on the draft by Alex Smith [the No. 1 overall pick in the 2005 NFL Draft] to waiting behind Brett Favre, to now hurting his Achilles after everything that went on this offseason and that happening how it did. I think it's just a really good opportunity. It's going to be exciting to just see him finish writing his story because he loves proving people wrong and I think he thrives in these situations."
The operation on Sept. 13, performed by Dr. Neal ElAttrache in Los Angeles, included the placement of an internal brace, the speed bridge, which NFL Network reported is designed to protect the repair of the tendon and offer the possibility he could return to play (perhaps for the playoffs) quicker than the usual recovery time of 8-to-10 months.
"It is great to see him back," said wide receiver Allen Lazard, his former Packers teammate and now with the Jets. "I think it lifts everyone's spirits to see him around the building, whether it is in meetings, in the locker room, on the sideline. Just his presence is very comforting and encouraging, just having him there and everything, so it has been great to have him back."
Throughout Rodgers' tenure with the Jets, from OTAs to training camp, Saleh has repeatedly said that he's never been around a quarterback who is so smart, thoughtful, and engaged with his coaches and teammates. Nothing that has transpired since the injury has changed the coach's mind.
"I have told him this, from a dynamic standpoint just so people understand, when a player goes on IR [injured reserve] most of the time they are kind of off on their own," Saleh said. "Usually, the older they are with regards to their time in the league, they're more liberal in terms of going out there and getting the rehab they feel like they need, because they know their bodies better than anybody. Whatever he needs to do to attack his rehab, we are going to support him either way.
"Selfishly as a coach, his superpower is his presence. Him being around this building, being around his teammates, being around the locker room, his positive attitude, his thoughts of manifestation and all of that, I think it is powerful. So obviously, as a coach, I selfishly want him here every single day, I want him in every meeting, I want him on the practice field, I want him on the sideline, I want him in the locker room, selfishly because he is an unbelievable human. Outside of scheme and playing ability, the intangibles that he brings to his teammates and the fuel I think his teammates will give to him is priceless. You just can't quantify it, you can't put a price on it.
"So just having him out there is awesome and him walking around, I think it just goes to show the type of mindset that guy has. I have never had an Achilles tear, hopefully I never do -- I don't want to ruin my golf game -- but from my understanding, him walking around is crazy."
With a headset on during Sunday's game, Saleh said that Rodgers was communicating with OC Nathaniel Hackett, though he let Hackett convey any suggestions to QB Zach Wilson. Rodgers has been supportive of his understudy, who was put in a difficult situation on Sept. 11, but helped the Jets to the overtime win against Buffalo and now consecutive victories (Denver and Philadelphia] to get the team to .500.
Appearing earlier this month on his regular gig on "The Pat McAfee Show,' Rodgers said: "It's pretty obvious I'm well ahead of the normal protocols when it comes to rehab for this kind of thing … but, obviously I'd like us to be alive and winning for that even to be in the conversation. I don't think it hurts at all to put that into the manifestation Zeitgeist and with all the modalities that we're doing, I feel like we've put ourselves in a position to make that decision at some point."