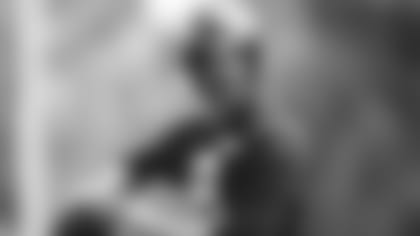 Aaron Rodgers surprised many students of his career when he opted to attend and participate in nearly every session of the Jets' OTAs sessions, something he had not done in recent years with the Packers, which concluded on Friday at the Atlantic Health Jets Training Center.
With the players now on hiatus for several weeks, a period HC Robert Saleh called "Phase-Me," Rodgers on Friday said that he plans to stick around for another couple of days before heading back to his native California.
"I'm going to get back to the West Coast and get with my workout folks out there," he told reporters on Friday afternoon, after the team's 10th and final OTA session. "I've got a trip to Lake Tahoe, that's about it and working out there."
Asked if he planned to casually convene with some of his new teammates for impromptu workouts, he said: "We've talked about it, Mecole [Hardman, Jr.] really wants to get together. Most people don't mind coming out to the West Coast. We'll have to figure out schedules and maybe find a central point and get some dates that work for everybody."
From Saleh on down the coaching tree to new OC Nathaniel Hackett, O-line coach Keith Carter and a wide assortment of Rodgers' new teammates, the reviews were nothing but raves about the four-time NFL MVP who has cashed in his No. 12 Packers jersey for No. 8 in Gotham Green.
Some observations on the Jets' new QB:
Saleh: "Having a new [offensive] coordinator and new faces it's nice to have a flagbearer [Rodgers] who knows the entire system, just like [Allen] Lazard and [Randall] Cobb. Experience in the system means success in the league. He's been helping it move along very well."
Hackett: "Having him in the offseason, it's great to see him enjoy it. There's new people for him and I think he's just excited to meet new people and a new area. It's a new adventure for him and I'm happy to see him embrace that."
Zach Wilson: "Aaron is someone I've looked up to. I'm very appreciative of him and all the ways he's willing to help me. He's an amazing friend and an amazing quarterback. I'm learning a lot of football not just from and I've been really enjoying it." He added: "His No. 1 quality is that he's extremely intelligent."
For his part, Rodgers had nothing but good things to say about participating in OTAs, his coaches and the collection of his new teammates.
"I think it was good," he said. "I originally planned on being back on the West Coast for at least a week to get with my bodywork people and my trainers. But when I hurt my calf, it was best that I was here the entire time rehabbing and just being around the guys. It made for a lot of opportunities for some get togethers in the city, obviously Taylor Swift concert, we had some good team dinners and a lot of hangout time. So that was good."
Indeed, Rodgers attended Rangers and Knicks playoffs games in Madison Square Garden and rocked out at a couple of Swift concerts at MetLife Stadium just last week. He certainly seemed to have embraced the big-city vibe and the options available to him.
"The last six weeks have been the most fun I've had in a while," he said. "Fun to come to work, a great quarterback room. Working with everybody was a lot of fun."
Even though Hackett told reporters on Friday that "we've got a lot of work to do," Rodgers was a bit more sanguine.
"I like where we're at," Rodgers said, adding: "We take it pretty slow, get some simple things and will start to amp up when camp comes [in mid-July]. Some of the young guys have been a surprise, you have to temper things, but 16 [WR Jason Brownlee] and 82 [WR Irvin Charles] had nice camps as rookies. A lot of guys flashed. Irv had a nice day today. I'm excited to get Randall and Mecole and [Tyler] Conklin and Breece [Hall] back, a lot of guys who are part of the offense we haven't seen. But the guys we've had have done some nice things."
Rodgers reserved some special praise for WR Garrett Wilson (and also Sauce Gardner), last season's Offensive Rookie of the Year who set club rookie records with 1,103 receiving yards from 83 catches with 4 touchdowns.
"I love Garrett, he's an awesome young kid with the whole world in front of him," Rodgers said. "He's got all the talent and ability. You need your best players to be your best people and he's definitely one of them. At least one time in practice I've looked back at the coaches and just gone 'Wow.' I like to encourage more communication across the ball, at some we're going to have the best corner [Gardner] and best receiver in the NFL. It's a legit possibility, but not yet. Those two are so talented I want to see more communication, take the next step, talk about things."
Earlier this week, Saleh said the team would not hold a mandatory minicamp because the Jets will open training camp a week early as they prepare to play the Browns in the Hall of Fame game in Canton, OH, on Aug. 3 -- part of the Green & White's four-game preseason.
"They're giving us more time out of the building," Rodgers said. "It's important for the guys to take a week, vacation, clear their heads. I'm glad we have the extra week."
And so it begins in Mr. Rodgers' new neighborhood.