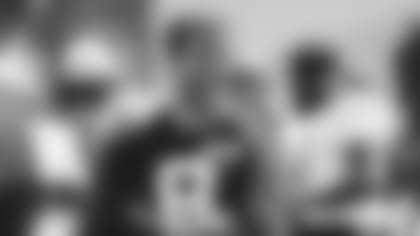 This is one in a series of articles that will also appear in the New York Jets 2023 Yearbook, which will be published later this summer.
Shortly after emerging from his darkness retreat, Aaron Rodgers sought out the lights of Broadway.
"I'm here because I believe in this team," Rodgers said after the Jets and the Packers executed a trade that brought the future Hall of Fame QB to New York's AFC representative. "I believe in Coach Saleh, I believe in the direction of Joe Douglas."
In New York, Rodgers will reunite with new Jets coordinator Nathaniel Hackett. With Hackett serving as the Packers' OC from 2019-21, Rodgers averaged 4,139 pass yards and totaled 111 TD passes and 13 INTs in 48 games. He was named league MVP in both 2020 and '21 while producing the two most accurate passing seasons of his career (70.7% and 68.9%).
Rodgers is one of the most prolific passers in NFL history. The four-time first-team All-Pro and 10-time Pro Bowler is No. 1 in TD-to-INT ratio and No. 2 in passer rating (103.6). He was the fastest to reach 300 TD passes and 400 TD passes.
"This is an opportunity to be a part of a city that's hungry, a team with an incredible fan base that's hungry to win again," Rodgers said. "Twelve years without playoffs, not a Super Bowl win since Super Bowl III — it's been a long time. So the opportunity to be a part of something special here, it's different. It's similar to Green Bay in that way. In a city like Green Bay and, I assume, for a team like the Jets, you can go down in history and there's something special about adding that to your legacy."
After the Jets finished their 2022 campaign, Chairman Woody Johnson called quarterback the missing piece for a team that improved its win total by three games from 2021. Enter Rodgers, one of the finest gridiron chess players ever.
"The Jets get a jedi," former Jets LB Bart Scott said. "They get a guy who's so sophisticated, so advanced and into the nuances of playing the position. He's going to catapult them to top of the division. It makes them formidable, a true contender in the division.
" He's cerebral. You think about the guys who have played late in their careers, and he's flourished. He knows all the tricks. He can smoke you out. He's one of the most athletic quarterbacks under center. He beats you with his mind and body. He still has a lot more juice in his body. He's a mobile quarterback who may have lost a step, but he's still more mobile than your typical dropback quarterback. He can hurt you in multiple ways. He doesn't turn the ball over."
Rodgers has a championship ring and the MVP award from Super Bowl XLV. He will turn 40 in December and he has his eyes set on another title.
"I'm an old guy, so I want to be part of a team that can win it all," he said. "And I believe this is a place we can get that done."