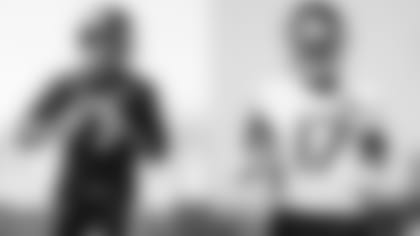 The Jets have two players -- QB Aaron Rodgers and WR Garrett Wilson -- in the top 10 among the NFL's 23 most intriguing players for the 2023 season.
Mike Jones of The Athletic (subscription required) put Rodgers at No. 1 on the list of 23 players and Wilson, a second-year player out of Ohio State, at No. 8.
"At last, the NFL's regular season is upon us," Jones writes. "And after one of the most fascinating offseasons in recent history, with all kinds of comings and goings and highly anticipated acquisitions, we're about to see how it all unfolds.
"Whether it's familiar faces in new places, promising figures on the rise or new kids on the block, there's no shortage of intriguing players. We've zeroed in on 23 whose performances could greatly impact the season's direction."
Jones put Rodgers, the four-time NFL MVP who the Jets acquired from Green Bay in April, atop the list.
"It's safe to say that no single player enters the season with expectations as high as those heaped on Rodgers by the Jets and their fans," he writes. "They're all thinking Super Bowl, even though this team as a whole is still young, and the offense will take some time to jell. Rodgers has practically walked on water during the "Hard Knocks" portrayal, and his cameo in the preseason finale [throwing a TD pass to Wilson vs. the Giants] proved promising. But does he truly still have the capability to carry a team at an elite level? And, once the games really begin, will his offensive line hold up adequately?"
Wilson, last season's league Offensive Rookie of the Year, has quickly evolved into one of Rodgers' favorite receivers ahead of the Jets' regular-season opener against visiting Buffalo on Monday night.
"As a rookie, Wilson racked up 83 catches for 1,103 yards, 56 first downs and 4 touchdowns despite great instability," Jones writes. "What will he be able to do now that he's catching passes from Rodgers?"