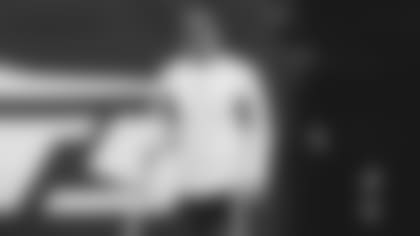 Sunday night NBC reported that Jets QB Aaron Rodgers, who ruptured his left Achilles in Week 1 against the Bills, is aiming to play under center later this season. Making his weekly Tuesday appearance on The Pat McAfee Show, Rodgers said he doesn't have a timetable for his return but is making significant progress.
"It's pretty obvious I'm well ahead of my normal protocols when it comes to rehab for this kind of thing, but that was always what my mindset was," he said. "That was what [Dr. Neal ElAttrache] and I talked about in the locker room honestly after [the injury] happened. It was the type of surgery that he'd been doing now for a little bit and then whatever protocols were out there, not adhering to those. Being as smart as possible not trying to stress the Achilles, but stressing the Achilles in a way that allows me to do movement quicker and speed up whatever timeline that has been the standard for this type of injury."
Even though Rodgers didn't commit to a return in the 2023 season, he shared some of his checkpoints -- the first one attending Week 4's matchup against the Chiefs. The next one is walking without crutches.
"I think for peace of mind you have to have some sort of long-term goal like that otherwise the rehab becomes much more laborious and monotonous," he said. "Basically whatever protocol is out there, there's kind of a blanket 6-12 months recovery. I have some things working against me. I'm 39 years old, I'm the oldest player in the league, a lot of people have a really hard time coming back from this. However, I really haven't been paying attention to any of that stuff. I've just kind of been making my own protocols and own timetables with the blessing of [doctors].
"I've been saying this is what I want to do. Let me know the risks and let me know what I need to do from a muscle standpoint, which ones need to be firing the right way in order for these things to happen and let's attack this rehab as hard as we can and see where we're at in a couple months. Obviously I'd like us to be alive and winning and for that to even be in the conversation, but I don't think it hurts to put that into the manifestation. With all the modalities that we're doing, we're going to put ourselves in a position to make a decision at some point."
Rodgers, a four-time NFL MVP, watched his team go toe-to-toe with the defending Super Bowl champion from a suite at MetLife Stadium. He was cleared to fly last week and spoke to the team the night before the game. Rodgers walked on the field during warmups (and even threw a pass from the sideline) with crutches and an ankle brace (as opposed to a walking boot) that helps him walk because of an additional deltoid injury.
"It was good to be back," he said. "To be carted off the field three weeks ago and then walk back on the field with a little assistance from the crutches was pretty special. Just to be in the locker room with the guys and talk to them Saturday night, just feel the energy and excitement was everything I needed."