You've probably caught wind of Mark Sanchez's "Baywatch" photo spread in GQ magazine. We're guessing the Jets players have heard and they're giving him an earful today.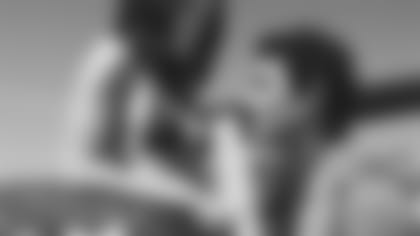 It's all part of the fun of being a first-round rookie quarterback on the New York Jets.
One thing that struck me about the photos is that Sanchez is caught in different poses and different clothes — swim trunks, tank top and jeans, T-shirt, hoodie, and female companionship — but in each shot he's not flashing that million-dollar smile. He's focused, impassive — all business.
Paul Zimmerman of Sports Illustrated is one of those one-of-a-kind journalists, the kind of football writer who knows what he's talking about, writes it like it is and then has the targets of his critiques come back, shake his hand and talk with him some more.
At least Dr. Z used to be that way, but as you may have heard through Peter King's reporting on SI.com, he had a series of strokes last year that left him unable to write or speak.
So many from the NFL world, the media and football fandom came together at Mayfair Farms in West Orange, N.J., on Monday night to help raise money for a treatment to get Zimmerman back up and communicating with us all again.
Jets head coach Rex Ryan was a guest of honor at the event along with Giants coach Tom Coughlin. Ryan, of course, goes back so far that he was a ballboy for the Jets when his father, Buddy, was an assistant coach on Weeb Ewbank's staff back in the Sixties, when Zim covered the Jets for the New York Post.
I first caught up with Dr. Z in 1975, when I filled in for the Jets beatwriter at the Daily Record of Morris County for a few weeks of training camp. Zimmerman, a big, no-nonsense guy if you didn't know him, gave several of us some tips on properly handling a rugby ball on the sideline during some dead time at practice.
Rugby is one of Zimmerman's loves. So, too, as you know if you've read his pieces in Sports Illustrated or on SI.com over the years, are cigars, wine, his wife, Linda, critiquing and timing National Anthem singers before games ... and football. He knows it all, has covered and charted it all. He's written several books on the game.
Zimmerman is also of note for Green & White fans because for years he has been the Jets' presenter to the Pro Football Hall of Fame. He argued for Joe Namath, Weeb Ewbank and Don Maynard in front of the selection committee and tried to get Joe Klecko into the shrine.
That advocacy was, hopefully, temporarily halted in February, when Zimmerman missed only his second Super Bowl — and as a result the committee's final voting session the day before the Super Bowl.
Bob Glauber of Newsday sat in during this year's HOF proceedings. But Zimmerman hasn't been permanently replaced on the committee. He's made progress since his strokes and the event Monday was an attempt to help get the funding to guide him back to doing what he loves and does best. You can read **Steve Politi's column** in the Newark Star-Ledger today for details on making donations.
Good luck on the road back, Dr. Z.