Offensive POD: **In a got to have it situation, TE Jace Amaro got it done. With the offense in need of a touchdown and time ticking off the clock, Ryan Fitzpatrick stepped up in the pocket and fired a laser into the end zone. The window was tight and Amaro had three defenders circling like seagulls searching for french fries, but the big target hung on to the rock after the contact. Excited after the score, Amaro got up and emphatically spiked the ball to the ground. Earlier in practice, Amaro also was on the receiving end on a nice scoring fade from Geno Smith.
Defensive POD: On a day void of turnovers and full of plays where it was hard to determine would-be sacks, there were a number of PDs in team drills. And while Julian Stanford had a nifty pass break-up on a ball intended for TE Zach Sudfeld, there was nothing more exquisite than CB Darrelle Revis' diving PD of a Geno Smith rocket to WR Chandler Worthy.
Marshall vs. Revis: Speaking of Revis, he saw a lot of WR Brandon Marshall early in today's session before team drills kicked off. (After Marshall had a brilliant one-handed scoring catch in team, he watched a lot of the young receivers get reps with the first unit.)
Stuffed at the Crossbar: After Ryan Fitzpatrick displayed his sneaky athleticism on a scoring run in goal line drill, the veteran QB provided some comedy relief. He attempted to dunk the ball over the crossbar two consecutive times, but he was denied on each occasion. We still think Fitzpatrick, who apparently shaved his mustache, can throw a basketball down on a regulation rim.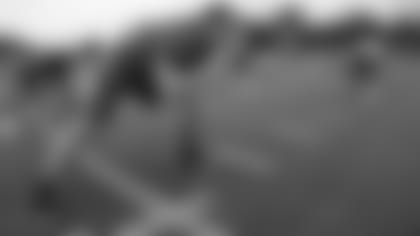 Notables: Rookie* *WR Charone Peake is starting to show up a little more as today he hauled in a long pass down the sideline from Fitzpatrick…With Revis seeing more reps, Marcus Williams saw a lot of action in team on the outside and Buster Skrine would shift inside in nickel situations… Brent Qvale and Ben Ijalana continue to get reps with the first offense at RT…. Rookie CB Juston Burris nearly had himself a one-handed highlight reel grab, but he had to settle for a PD instead of an a INT… QB Geno Smith was sharp all afternoon and particularly excelled during red zone drills.
Robinson Returns: After being activated, RB Khiry Robinson took part in individual drills with the running backs. The 6'0", 220-pounder, who played in 28 games the past three seasons with the Saints while averaging 4.1 yards per carry, is working his way back from a tibia fracture. Head coach Todd Bowles did not rule Robinson out of Thursday night's preseason opener against the Jacksonville Jaguars.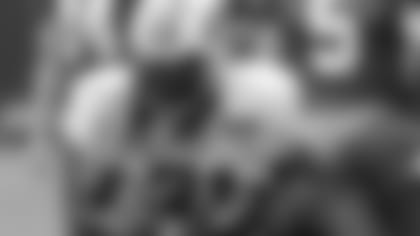 Decker Gets a Rest: Veteran WR Eric Decker was held out of team drills as he was dealing with leg soreness. He is expected to practice full on Tuesday.
DNP: RBs Matt Forte (hamstring) and RB Bernard Pierce (hamstring), S Ronald Martin, CB Dexter McDougle (hamstring), LB Trevor Reilly, TE Wes Saxton and WRs Eric Decker (leg) and Kyle Williams (leg).
PUP List: RT Breno Giacomini (back), WR Devin Smith (knee) and DL Muhammad Wilkerson (leg).